Fashion is the expression of change in all fields of our life. Read the following Paragraphs on Fashion, need and importance of having fashion in life,  with quotes, facts for Children and students
Paragraph on Fashion For Children & Students

Fashion is the reflection of change in our lifestyle, dressing, choices, preferences etc. The word fashion is derived from the French word "façon" which means "manner, way, style". The history of fashion dates back to the 15th century. It has evolved over centuries and has become more popular these days.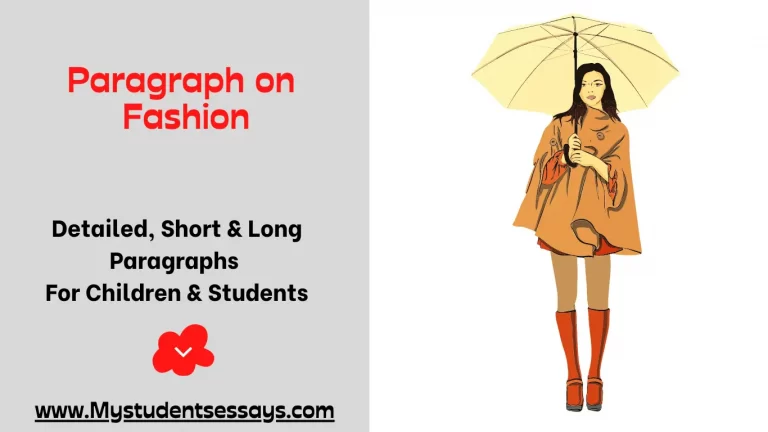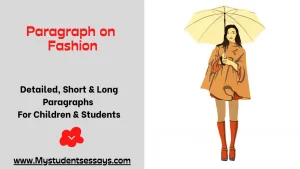 Clothing styles have always been a reflection of a society and culture. They have also been used as a tool for social change. For example, the women's liberation movement in the 1960s used fashion to promote their cause. They wore clothes that were more comfortable and refused to wear more restrictive clothing.
Today, fashion is a multimillion dollar industry. There are magazines, websites, television shows, and movies devoted entirely to promoting fashion all the way out.
>>>> Read Also:  " Paragraph on Importance of Money in Life "
Paragraph on Fashion of Today
There's no one way to be fashionable. To some, fashion is about following the latest trends, while others believe in expressing their unique individual style. Some people view fashion as a way to show off their wealth, while others see it as a form of self-expression. There are as many different definitions of fashion as there are people who care about it.
What matters most when it comes to fashion is what makes you feel confident and comfortable. If you like wearing designer clothes, go for it! If you prefer to wear clothes that are more affordable, that's great too. As long as you're happy with your choices, that's all that matters.
There are a few things to keep in mind when it comes to fashion, though. Fashion is all about choice and novelty. First of all, don't be afraid to experiment. Try on different styles and see what looks good on you. And, make sure that your clothes fit well because the Ill-fitting clothes can make you feel uncomfortable and heavier. Finally, always dress for the occasion. If you're going to a formal event, wear something dressy, and if you're going to a casual party, wear something comfortable.
>>> Read Also:  " Essay on Fashion "
Therefore, fashion is all about trends and choice. It's not rather compulsory. You may like to wear whatever you like the most. There's never a restriction of any sort upon you.