Picnic is the moments of joys, wonder and excitement. Its the duration of time that you plan to spend somewhere with your friends or family. A Picnic with friends has its own meaning and importance. The following Essay on Picnic with Friends talks about joys, wonder and fun of spending a Picnic with Friends in Countryside. This essay is going to be of great help for students in school exams and written tests.
Essay on Joys of a Picnic with Friends in Countryside
A picnic planned with your best friends brings real joy and fun. It is a very good way to spend your leisure time with friends and enjoy nature. Going on a picnic to the countryside with besties is always full of joy and merrymaking.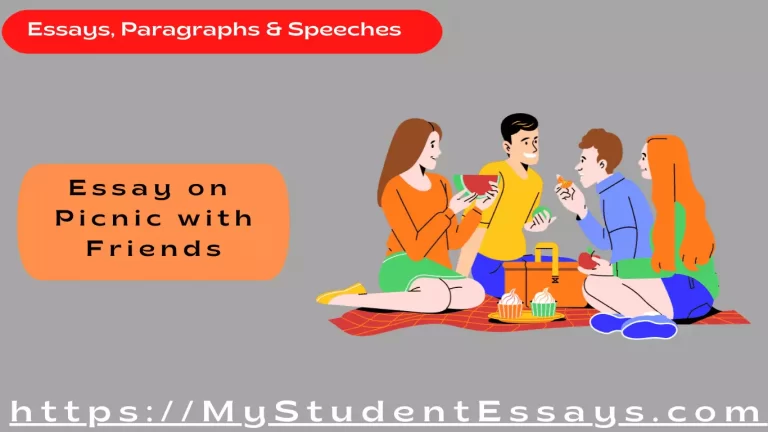 The best part about going on a picnic with friends is that you can do whatever you want and there are no rules to follow. You can play games, sing songs, dance, and do anything that you feel like doing. You can also enjoy the scenery and relax in the lap of nature.
>>>> Read Also: " Write a Short Paragraph on Friendship"
Another great thing about picnics is that you can enjoy delicious food. You can pack your favourite snacks and drinks to enjoy during the picnic. If you are planning a picnic to the beach, then you can also enjoy the seafood.
A picnic with friends is a great way to spend your leisure time and create some wonderful memories. So, if you are planning a picnic, make sure to include your best friends in it to make it more enjoyable.
Our Experience: A Picnic with friends Goa beach:
Last week we planned a picnic with friends at Goa beach. We enjoyed playing games, singing songs and dancing a lot. The food was also very delicious. We had seafood along with some other snacks and drinks. It was a lot of fun and we created some beautiful memories.
>>>> Read Also: " Essay On Outdoor Games & their Benefits in Life"
There were many amazing moments during our picnic, but some of the most memorable ones were when we played games, sang songs and danced. We also got the company of other people there. They also shared our joy and in fact we made new friends there. We had a lot of fun and it was a great way to spend our time together. We all enjoyed ourselves immensely and are already looking forward to our next picnic together