Friendship is the truest form of blessing. Read the following Paragraph on Friendship and its importance in life. Its helpful for children and students
A Paragraph on Friendship, Importance and Benefits of True Friendship

Friendship is a special kind of bond that exists between people who share a mutual trust and respect for one another. It is a relationship built on mutual understanding and support, and it is characterized by loyalty, honesty, and empathy. Friends are there for each other through thick and thin, and they are always happy to lend a listening ear or helping hand to each other.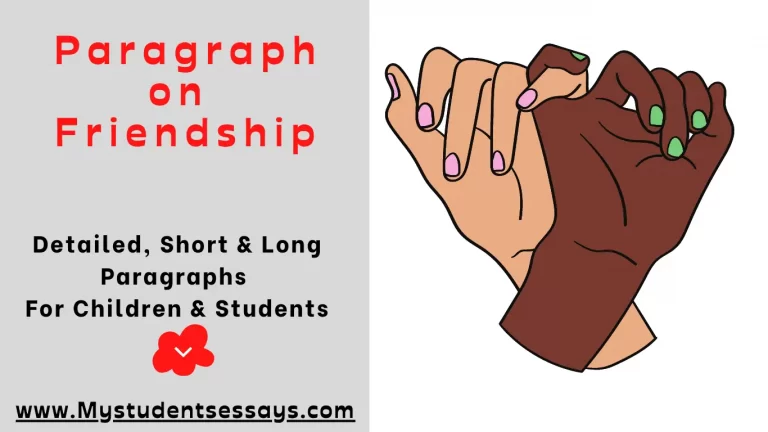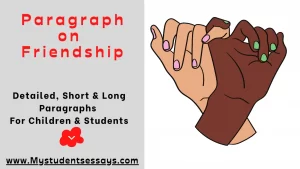 Friendship is defined as the sense of mutual understanding and support that friends share. This relationship is built on trust, respect, and common interests. Friends are always there for each other in good times and bad, and they are quick to help each other at all times.
Friendship is one of the most important relationships in life. It provides mutual support and understanding, and it helps to build character and resilience. Friends are a source of comfort and strength during difficult times, and they can help to make life more enjoyable and fulfilling.
Benefits of friendship
Some of the benefits of friendship include increased happiness and life satisfaction, reduced stress and anxiety, improved mental health, and a stronger social support network. Friends also provide a sense of belonging and purpose in life, and they can help to keep you grounded and honest.
We all talk about friendship universals. Following are the few important traits of a happy and sincere friendship.
1. Loyalty – A true friend is loyal and supportive, and she will always be there for you in good times and bad.
2. Honesty – A true friend tells you the truth, even when it's difficult to hear.
3. Empathy – A true friend understands how you feel, and she is there to support you through thick and thin.
4. Mutual respect – A true friend respects your opinions and beliefs, and she expects the same in return.
5. Common interests – A true friend shares your interests and enjoys spending time with you.
Conclusion
Friendship is an important virtue of a healthy and peaceful living. It has a great impact on our lives. Friends are the source of strength during difficult times. The importance of friendship is undeniable, and the benefits of having friends are countless.