The future plans refers to our aim, objectives or purposes we set in present times to achieve in future. The future plans related to our personal life, Academic or professional commitments in fact help us stay focused, disciplined and motivated today to achieve the future goals.
Essay on Future Plans | My Personal, Professional, Family & Academic Commitments, Goals & Plans
My Future Plans revolve around around three important things in Life. Firstly, to achieve academic excellence, a successful career in IT and having happy loving family.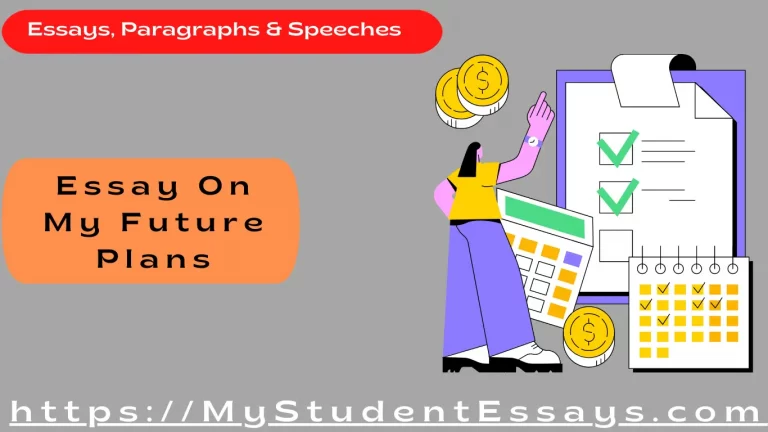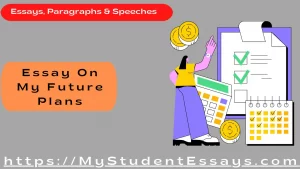 My Future Plans
To think about future is the part of our lives. Everyone have their own future plan in life. Future plan is what you have to do in some specific time of your life. It can be related with your career, education or personal life.
>>>> Read Also:  " Essay on Success in Life, Career, Relationships "
My Future Plan: Academic Excellence
I will get admission in the best university of United Kingdom for my higher education. I have chosen UK because it is one of the most developed countries of the world and has a very strong educational background. My aim is to secure first class honors degree in Computer Science from a reputed university. After that, I will do masters in the same field and then join a top notch software company as a software engineer.
My Future Plan: Career in IT:
As I have mentioned earlier, my aim is to have a successful career in Information Technology. I believe that IT is one of the most rapidly growing fields and offers excellent job prospects. I want to work for a reputed company and contribute towards its growth. I am sure that with my skills and experience, I will be able to achieve this goal.
My Future Plan: Happy Family:
Lastly, I want to have a happy and loving family. I believe that a strong family is the foundation of a successful society. I want to get married and have children who will be a source of joy for me. I am sure that with my determination and hard work, I will be able to achieve all the goals that I have set for myself.
Importance of Having Future Plans:
There are many reasons why having future plans is important. One of the most important reasons is that it gives you a sense of purpose in life. You know what you're working towards and this can help keep you motivated when things get tough.
Another reason is that it allows you to better plan and organize your time. You know what you need to do and when you need to do it in order to achieve your goals. This can help minimize stress and make your life a lot more organized.
Finally, having future plans allows you to set realistic goals for yourself. You're not setting yourself up for failure by expecting too much or trying to accomplish things that are impossible
>> Related Post:  "Essay on Goals of Life "
Conclusion:
Future Plans therefore are very important for every individual. They help us to focus on our goals and work towards them. We should always keep our future plans in mind and work towards them with determination. Only then we will be able to achieve success in life.