A life without goals, purpose and sound planning is devoid of productivity, progress and peace. Thereby, a goal in life is extremely important to have. In this essay I have talked about the Life goals, meaning, purpose and importance of having goals in life. Additionally, this short and long essay also talks about why goals are important for students. This essay is helpful for children and students in their school exams.
Essay on Goal of My Life | My Academic, Professional & Family Life Goals
Having a Goal in Life is very important. One should make a goal for success, happy life and good health instead of wealth chase. A life without goals is like sailing in the ocean without destination. Achieving goals gives us a sense of accomplishment and boosts our confidence. It also helps us stay motivated and focused on what we want to achieve.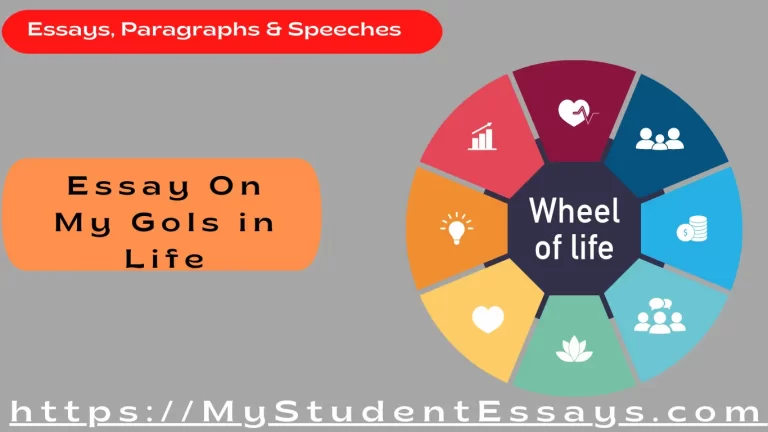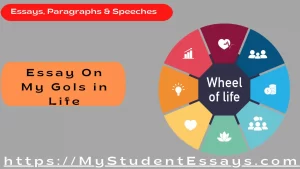 My Goal: Career Success
I always wanted to be successful in my career. I wanted to achieve something big and make a mark in this world. I was never interested in chasing wealth or material possessions. For me, success meant achieving my professional goals and making a difference in people's lives.
>>>> Read Also: " Essay on My Idea of Happy Life "
I worked hard and pursued my dreams with determination. I took every opportunity that came my way and worked towards my goals. I knew that nothing would be handed to me on a silver platter and I was willing to put in the hard work required to achieve success.
Today, I am proud to say that I have achieved my goal of career success. I am working in a job that I love and making a difference in people's lives. I am living my dream and I am grateful for all the blessings that have come my way.
My Goal: Happy time with Friend and Family
My other goal in life was to have happy times with my friends and family. I wanted to be able to spend quality time with them and enjoy their company. I knew that money and material possessions cannot buy happiness, but good relationships can.
I made it a point to spend time with my loved ones whenever possible. I would go out for dinner, movies, and vacations with them. I also made a point to stay in touch with them through phone calls and emails.
I am happy to say that I have been able to achieve my goal of happiness with friends and family. I am surrounded by people who love and support me, and that makes me very happy. I am grateful for everything that I am blessed with.
My Goal: Sound health
Last but not the least, I wanted to have sound health. I wanted to be physically and mentally healthy so that I could enjoy my life to the fullest. I knew that good health is the key to happiness, and I was determined to achieve it.
I made healthy lifestyle choices and regular exercise a part of my life. I also made sure to get enough rest and eat a balanced diet. I avoided unhealthy habits like smoking and drinking. I am happy to say that I have achieved my goal of good health. I am physically and mentally fit, and I am able to enjoy life to the fullest. I am grateful for all the blessings that have come my way.
>>>> Read Also: "Paragraph on My Ambition in Life" 
Conclusion:
Therefore, I must admit that having a rightful balance in goals of life is very critical. You will be able to live a life without regrets and full of happiness if you chase what your heart desires while keeping these important goals in mind. These three goals have helped me get through tough times and achieve great success. I am sure they can do the same for you too!