A vacation is what one desires after having tiresome work at office. It is the escape to a place where we can indulge in activities that we enjoy the most. It is a means to rejuvenate our mind, body and soul. A vacation can be at any place of one's choice depending on his/her preference.
Essays on My Dream Vacation For Children & Students
A vacation is defined as a period of time spent away from home or business in travel or recreation. People usually take vacations to spend time with family and friends, to relax or to travel to new places.
A vacation period is very important for one's health as well as work life balance. It helps us to refresh our mind and body and come back to work with a new zeal and vigor. A vacation can be as short as a weekend or can even extend up to a couple of months. The best part about a vacation is that it can be spent in any way we want. We can either spend it in a relaxed manner or can go for some adventurous activities. It all depends on our mood and preference.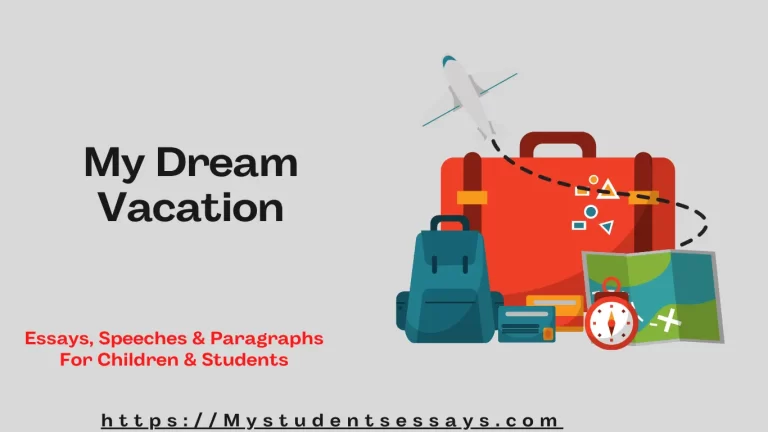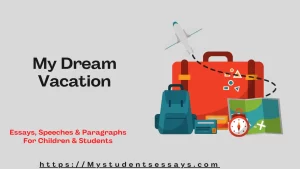 A vacation is a great way to unwind and relax. It is also a great opportunity to explore new places and learn about new cultures. A vacation can be an unforgettable experience if we plan it well and make the most of it.
>>>>> Related Post:  " Essay on Desert Life & Its Experiences"
My Dream Vacation
A dream vacation for me would be in Hawaii. The reason for this is that it has all the elements that I am looking for in a vacation destination. It has beautiful beaches, stunning scenery, great weather and friendly people.
I have always been fascinated by the beaches in Hawaii. The white sand and turquoise waters are simply mesmerizing. I would love to spend my days lounging on the beach, sipping cocktails and soaking up the sun. I would also like to try out some water sports such as surfing, snorkeling and scuba diving.
The scenery in Hawaii is simply breathtaking. The lush green mountains, active volcanoes and cascading waterfalls are a sight to behold. I would love to go on hikes and explore the jungle. I am also interested in visiting the Volcanoes National Park and the Hawaii Tropical Botanical Garden.
The weather in Hawaii is perfect for me. It is sunny and warm all year round with very little rainfall. This is the ideal climate for me as I don't like cold weather. The people of Hawaii are known for their friendliness and hospitality. I am sure I will enjoy interacting with the locals and learning about their culture.
I am confident that a vacation in Hawaii will be the perfect dream vacation for me. It has everything that I am looking for in a destination and I am sure I will have an amazing time there.
Essay on My Dream Vacation to Countryside
A vacation to country side is essentially pleasing. The scenery of my country India are of soothing importance. My dream vacation would be to the countryside of India. I have heard much about it from my elders and also seen many movies which have been shot in the rural areas of India. The greenery and the serenity are what attract me the most about countryside. It is said that a person should always visit his or her roots at least once in a lifetime and I completely agree with this saying.
The best part about countryside is that it presents an escape from the hustle and bustle of city life. It would be a great opportunity to disconnect from the internet and social media and just relax in nature's lap. I am also very keen on visiting the ancient temples and monuments which are found in large numbers in the rural areas of India. I am sure that a vacation to countryside would be a truly memorable experience.
>>>>> Related Post:  " Essay on Desire, Meaning & Importance "

Do you have a dream vacation destination? Let us know in the comments below!