Morality is the important character of a well socialized and good mannered person. The Moral Education should be prioritized in every phase of a child's socialization. The following Essay on Importance of Moral Education sheds light upon Morality, Importance of Moral Education and the Role of Family, School & Education Institutions in Promoting Morality in Students.
Essay on Need & Importance of Moral Education For Students
Moral education is one of the most important aspects of schooling, and it plays a critical role in the development of a child's character. It helps students learn how to make good decisions, behave ethically, and respect others. In addition, moral education also teaches students about their rights and responsibilities.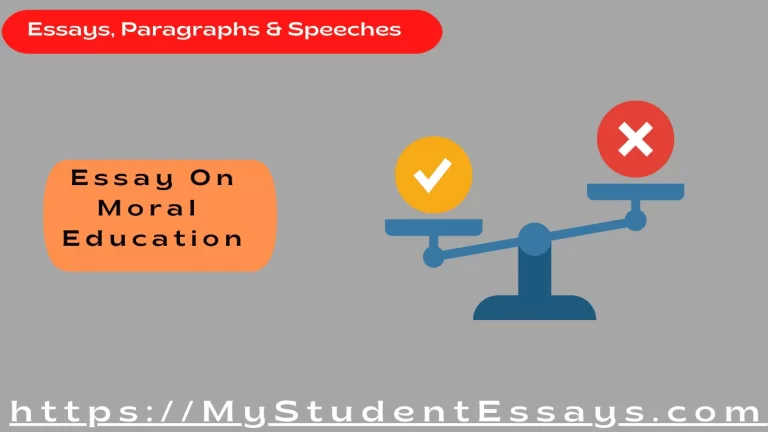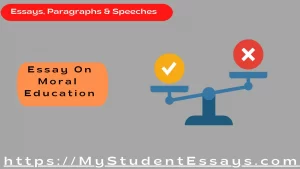 Moral education can occur through both formal and informal channels. Formal moral education is typically delivered through the school curriculum, while informal moral education occurs outside of the classroom, through parents, peers, and the media.
The importance of moral education has been recognized since ancient times. Plato, for example, believed that it was essential for developing virtuous citizens. In more recent times, there has been a growing consensus among educators and policymakers that moral education is a critical part of the educational process.
>>> Read Also:  " Essay on Fashion "
Despite the importance of moral education, however, it is often neglected in schools. Many students do not receive the instruction they need to make good decisions and behave ethically. This can have harmful consequences for both the individual and society as a whole.
Role of Schools in Promoting Morality
There are a number of things schools can do to make moral education a part of the curriculum. One important step is to ensure that teachers are adequately trained in moral education. Teachers should be given the tools they need to teach students about right and wrong, ethics, and respect for others.
In addition, schools can also create a positive environment for moral education. This includes providing opportunities for students to discuss ethical issues, and promoting values such as justice, honesty, and responsibility.
>>> Related Post:  " Essay on Teenage Life "
Finally, schools can work with parents to promote moral education at home. Parents play a critical role in the development of their children's character, and they can help reinforce the values taught in school.
It is therefore important for policymakers to give more attention to moral education and ensure that all students receive the instruction they need. This will help create a generation of responsible and ethical citizens who can contribute to the betterment of society.