Forgiveness is the greatest human virtue. Forgiveness is nobler than revenge. It heals and provides relief. Here, we have tried to write an Essay on Forgiveness that covers; forgiveness is not the sign of weakness, it is nobler and divine and better than revenge.
This short & Long essay has been written for children & students from Ukg kids to Middle & High School level students in 100-150, 200,300 & 500 words essay on forgiveness.
Essay On Forgiveness | Forgiveness Essay For Children & Students
Forgiveness means to remove negative thoughts about people who have hurt us and forget their mistakes.
It is a decision to release feelings of vengeance towards someone who has harmed us. It means to let go of the problem that someone has caused in our life and give that person a second chance.
Importance of Forgiveness
The term forgiveness has a strong connection with person's physical and mental health. If a person does not have a strong heart to forgive others then he will stay in constant anger, depression and anxiety. This will also affect his health.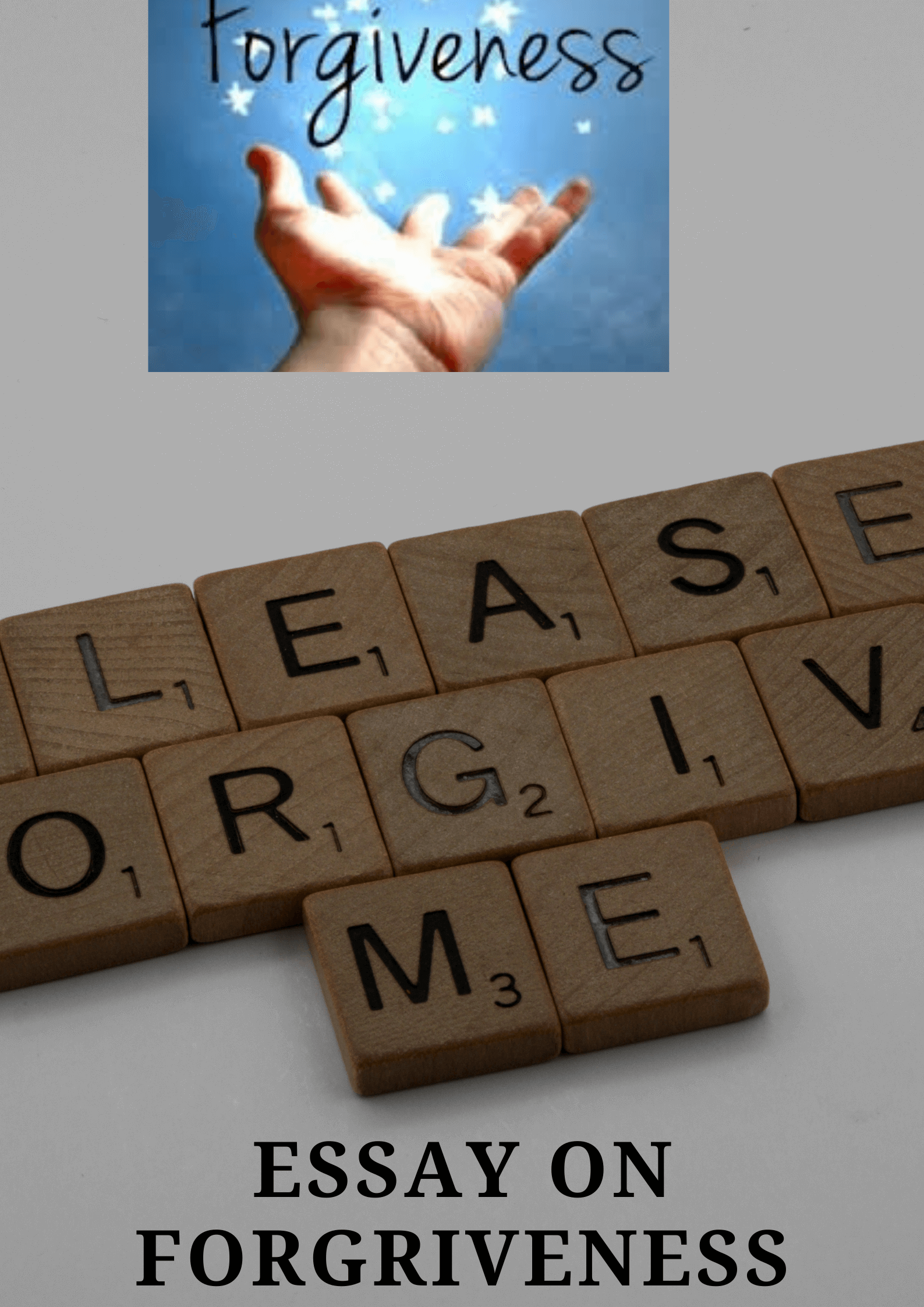 Forgiveness can help to repair damaged relationships. It brings peace of mind to forgiver. If we forgive others then it sets us free from stress and anger.
>>>>>> Related Post:   Essay on Courage, Meaning & Types
If we do not forgive others and hold grudge against them that we will always have a bad feeling inside us. We will always feel hatred because of so much bitterness in our mind and heart. It is a fact that people who forgive others easily are much satisfied from inside than those who keep grudges against others.
Meaning of Forgiveness
Now a days, people prefer to stay apart from their relatives rather than forgiving them. In this fast world, everyone is so busy in work that they do not have time for each other.
If there is a misunderstanding between people then they prefer to cut communication with that person instead of forgiving him. Many people also consider it their defeat to admit that they have hurt other person.
It is important to remember that there is no loss in admitting and apologizing for your mistake.
To be able to forgive others, we should first forgive our self.
>> Related Post:  " Essay on Greed & Its Impacts "
It means that if a person is guilty about something then he should accept that mistake and move forward. If he cannot forgive himself for his mistakes then he will not be able to leave his past behind. He will always stay in constant regret and stress. Therefore, he should forgive himself first to free his heart from angry emotions.
All of us have some people in our life who we do not like for different reasons. We do not want to talk to them because they have hurt us through their actions.
Instead of ignoring them, we think of plans to get even and let them feel the same pain that they have caused us. It is not a right thing to do.
This is not what our religion teaches us to do. Anger is not something that we should hold in. We should understand that forgiving someone does not make a person weak.
It means that a person is strong and brave enough to forget the mistakes of others. Indeed, forgiving is not an easy task.
Understanding the situation in which other person has lied, understanding the whole situation and trusting the same person again are some of the hard aspects of this subject.
In order to forgive others, it is important to think about the whole situation with a calm mind. The best thing to do is think about what happened and try to understand that why other person would such thing, then it will get easier to decide why he should be forgiven.
>>>>>>> Read Also:   Essay on Gratitude & its Importance in Life
Conclusion
As a human being, we should accept that it is in human nature to make mistakes. No one is perfect in this world. Therefore, we should forgive others with big heart instead of taking the issue to heart. If we forget mistakes of others and free our mind from all the negative thoughts then this world would become a happy place to live in peacefully.