Compassion is the powerful motivating force that is essentially important in our lives. The following essay, written by our experts, sheds light upon the meaning, purpose and importance of having compassion in life This essay is quite helpful for children & students in their school exams, college test, etc
Essay on Compassion | Meaning, Purpose & Importance of having Compassion in Life
The Compassion is an emotional energy that we feel for someone or something else and which draws us to offer our support. If we have compassion for someone in need, it means that we feel their pain in our own hearts and are motivated to alleviate it in some way.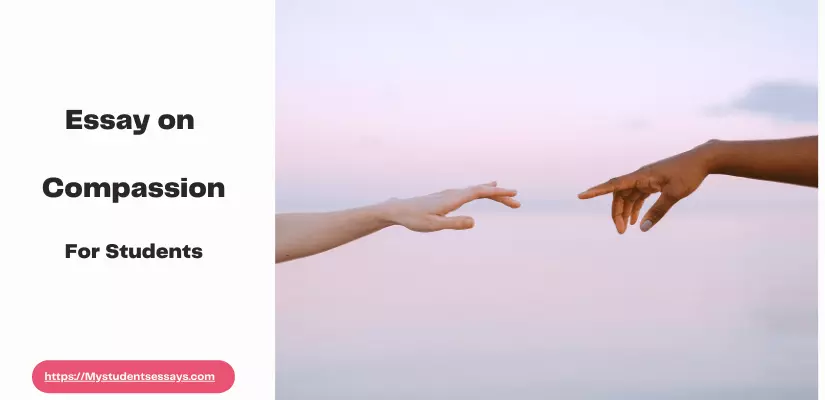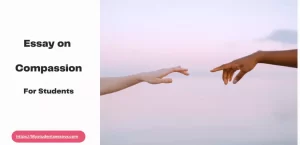 On a broader scale, compassion is loving kindness. It's the heartfelt intention to offer hope and support, to feel someone else's pain as if it is our own and to offer help.
>>>>>>> Related Post:   Essay on Where there's a Will there's a Way
Compassion vs Empathy:
Empathy can be defined as, "the feeling that you understand and share another person's experiences and emotions."
While both compassion and empathy are about relating to the feelings of others, empathy is more focused on the other person's emotions. Compassion expands that focus to include a desire to help. It shows up as wanting to support, to be there for someone in a time of need, and to offer help.
Empathy often causes an emotional resonance within us that motivates us to action, which is an aspect of compassion. However, empathy can be limited by our own feelings and experiences. For example, if someone else is feeling sad, but the only thing you can relate to in that moment is your own sadness, you may feel empathy for them but not be able to experience their sadness fully. This might lead you to try to cheer them up instead of letting them feel what they need to feel in order to heal.
On the other hand, compassion is more about emotional resonance and less about our own emotions. Because of this, it can be a more effective motivator for both giving and receiving help.
Kinds of Compassion
Compassion can be broken down into two categories: familial and altruistic. Familial love is the kind of compassion that comes from our personal family experiences. Whenever we feel love for someone in our family, we are experiencing familial compassion. For example, your parents showed you love and support when you were growing up—those are moments of familial compassion.
Altruistic love is the kind that focuses on loving others without any expectation for reciprocity. It's the kind of love that you can feel for people you don't know or have just met. It's what leads to charity, volunteering, and philanthropy. People who dedicate their lives to helping others are often motivated by altruistic love.
Compassion in our daily Life
Having compassion for ourselves and others is an important part of keeping our hearts open. We all experience challenges in life that can cause us to shut down and close our hearts. When we have compassion for ourselves in these moments, it can prevent us from closing down further.
Compassion is also often necessary when helping others. If we are trying to support a homeless person on the street, for example, it's much more helpful if we can offer them compassion. If we are judgmental of their situation, if we think that they "should" be doing something about it or that this is "their own fault," we are not offering effective support. The same can be said for trying to help someone who is grieving, or a person struggling with anxiety.
It's important to receive compassion as well as offer it. We all need support sometimes, and when we don't get it, we can feel even worse about ourselves and the situation. If you are going through a tough time, it's important to receive compassion from others to keep your heart open.
In order to offer compassion, we have to practice awareness of the suffering in our world and take a stand against it. We can't offer compassion if we don't know about the problem. In addition, mindful awareness of our own thoughts and feelings is a crucial part of compassion. Without self-awareness we can't know what others need and we won't be able to relate to them properly.
Developing Compassion in Life
Compassion can be developed by practicing mindfulness and meditation. Mindfulness is the practice of keeping our attention on the present moment and noticing how we're feeling. We can think of this as "taking a moment" to check in with ourselves. Meditation is another way to practice mindfulness.
Compassion can also be encouraged by focusing on people's beneficial qualities rather than their shortcomings or mistakes. If you focus mainly on the negative qualities of someone who is suffering, it can be harder to feel compassion for them. Another way to develop more compassion is by trying to imagine
>>>>>>>> Related Post:   Essay on Loyalty, Value & Importance
Conclusion
Compassion is essential to keeping our hearts open, and developing more of it will ultimately help us build better relationships with others. When we feel compassion, we feel motivated to help and support others, but it's important to recognize that compassion is a whole-hearted feeling, not an emotion. Therefore it's important that we also receive compassion from others, especially when we need it.