Self belief is the most important thing in life which helps a person to fight against all odds and achieve success in their lives by leading a happy and contended life. Self belief does not come overnight, it comes with efforts and then only you can achieve your goal easily. Read the following short and long essay for students on self belief.
Essay on Self Belief | Meaning, Importance of Self Belief For Children and Students
Self belief is defined as a feeling or consciousness of one's own powers or of reliance on one's own efforts. In simple words, self-belief is a strong faith and confidence in yourself.
If you have self belief then others will believe that you can achieve anything what ever you want to do. You will feel strong and active within yourself. You will be able to face any difficult situation or circumstances with courage and confidence. You will not lose hope in your abilities and skills even if you face many hurdles on the way.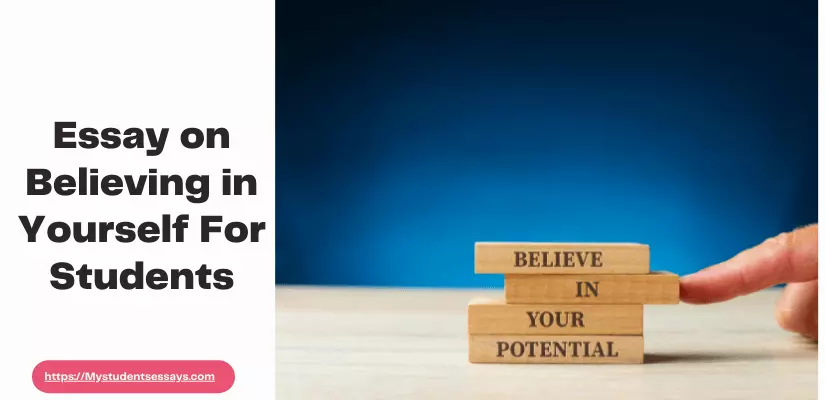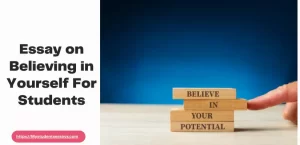 However, if you lack self-belief others will not have faith in you. You may not be able to make a success of your life because of lack of motivation and strength from within. In other words, this means that the road to success is only for those who do have a strong belief in themselves. Self-confidence without self-belief is of little use.
>>>> Related Post:  Essay on Character & its Importance in Life
Self belief is important for all of us because nobody can succeed without it whereas success is the only thing that can bring self-belief in you which will help you to cope up with any difficult situation.
Importance of Self Belief in Life
Five major reasons why self belief is important in life are:
1) Self Belief is important for a student because he has to work hard and get good grades in order to get a good job. In this competitive world, an average or below average student cannot find a suitable job easily. If you have strong belief in your abilities then you will have confidence in yourself that you can achieve anything what ever you want to. It is the self belief that makes a student responsible for his actions and decisions because, without having trust in oneself no one can be brave enough to take decisions confidently.
2) Similarly, when it comes to choosing a profession or taking any important decision in life, self belief is an important criterion. It will help you to take firm decisions and achieve success in your career by leading a happy and contended life.
3) If you have a strong belief in yourself then it will be easy for others to trust you because they know that whatever promises you make them, whatever tasks assigned to you, you will accomplish them successfully.
4) Self-belief is also helpful in making sound decisions because it gives courage to handle any situation that may come up during the course of your life.
5) Successful people have a strong belief in themselves and others too believe in them so they get success easily. They have the ability to influence and motivate others to work hard and achieve success.
Thus, we can say that having a strong belief in yourself will help you to build strong relationships with your family members , friends and colleagues which will give support to each other and result into achieving greater heights of success.
Self Belief for Students
Successful students are always confident and have a strong belief in themselves. They do not allow their failures to discourage them from achieving their goal or goal. They wait for the right time, gather all resources and then make a plan to achieve success. Successful students learn from their mistakes and never waste an opportunity given by god because they know that opportunities are rare. A person who does not have self-belief always makes excuses for his failures and blames others for his shortcomings.
In an era where competition has become cut throat, it is very important that a student believes in his own potential and abilities to achieve high scores. If he lacks self belief then he will make mistakes which will decrease his percentage. And often this
>>>> Related Post:  Essay on Trust & its Importance in Life
Conclusion 
To conclude, it can be said that having a strong belief in oneself is very important because if you have a strong conviction about yourself then nobody will be able to discourage you from achieving your goal. If you want to achieve success in any field of life, all you have to do is to believe in yourself and gather all the necessary resources and tools.