A Gardener is one who takes care of his garden very well. He know, understands and basically he can communicate with the plants in his garden. He treats the plants as being a parent. The following short Essay on Gardener talks about the who is a gardener, his job, duties, passion and skills that are needed to be the best gardener. This short Essay is very helpful for children and students.
Essay On Gardener | Role & Job of a Gardener- Skills Needed
A gardener is one who is entrusted with the care and maintenance of a garden. They are responsible for planting, watering, weeding, and harvesting the plants in the garden. Gardeners must have a deep knowledge of botany, as well as an understanding of soil composition and climate conditions.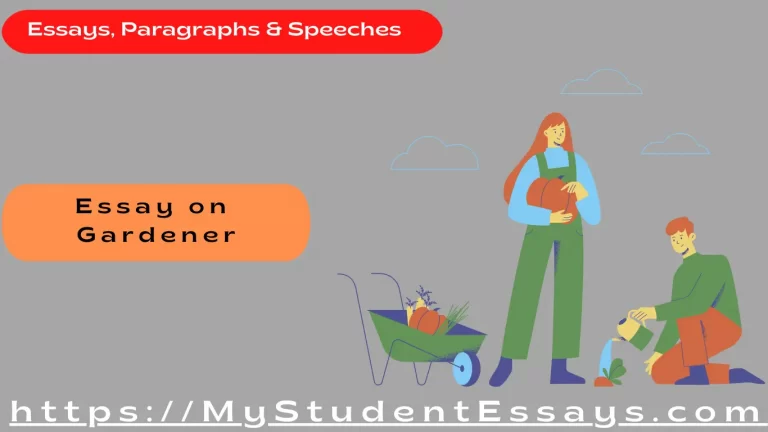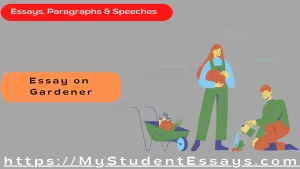 What's the Job of Gardener?
The job of gardener is to maintain the garden in a way that is pleasing to the eye and beneficial to the plants. This requires knowledge of plant species, as well as an understanding of how they grow and what conditions they need to thrive. Gardeners must be able to identify problems with plants, such as pests or diseases, and take steps to correct them. They also need to be able to select the appropriate plants for the garden and care for them properly.
   >>>> Read Also: "Paragraph On Morning Walk"
Gardeners typically work in teams, with each team member responsible for a different section of the garden. In larger gardens, there may be several teams, each with its own supervisor. Gardeners typically work during daylight hours, although they may need to work early mornings or evenings to take advantage of cooler temperatures.
What Skills Do You Need to Be a Gardener?
To be a gardener, you need to have a passion for plants and an interest in horticulture. You should also be physically fit, as the job requires a lot of bending, stooping, and lifting. It is also important to be detail-oriented and able to follow instructions carefully.
Education and Training for Gardeners
Gardeners typically receive on-the-job training from more experienced workers. This training usually lasts for a few weeks or months and covers topics such as plant identification, soil management, and pest control.
The job of gardener can be very rewarding, both emotionally and financially. Gardeners typically enjoy a good working relationship with their supervisors and team members, and they often develop a strong bond with the plants in their care.
A gardener has deep relation with plants. They should be passionate about plants and horticulture. They must also be physically fit, as the job requires a lot of bending, stooping, and lifting.
>>>> Read Also: " Paragraph on My Garden For Students"
Conclusion
Therefore, a gardener is an integral part of our society. We would be lost without their knowledge and expertise. I hope this essay has given you a better understanding of what the job of gardener entails. Thank you for your time.