This essay on WhatsApp, talks about the origin and history of WhatsApp, Importance of WhatsApp, Uses of WhatsApp in our Personal and Professional Life, few drawbacks of WhatsApp. This essay is written in Simple English and in easy to understand words to help children and students.
Essay on Whatsapp | Importance of WhatsApp, Uses & Benefits of WhatsApp

In this fast paced world where life is all about multitasking and being connected to the virtual world, it is very important to have a communication application which is not just fast but also hassle free. WhatsApp messenger fulfills all these requirements. It is a cross platform instant messaging service for Smartphones that uses the internet to send text messages, videos, audio notes and even your location to other WhatsApp users.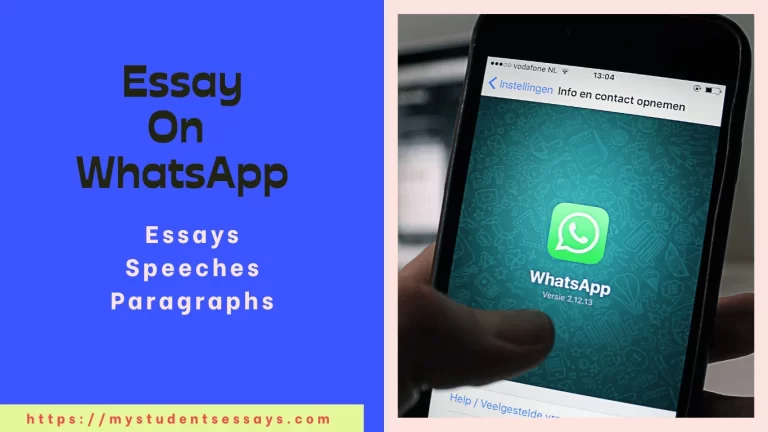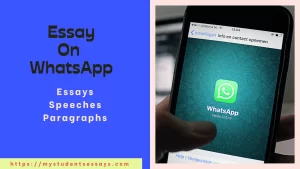 WhatsApp:
WhatsApp is a cross-platform instant messaging app that allows users to communicate with each other without having to pay for SMS. WhatsApp Messenger is available for iPhone, BlackBerry, Android, Windows Phone and Nokia. The app uses the internet connection of the user's device to send and receive messages, meaning that it can be used anywhere in the world as long as there is an internet connection available.
>>>> Read Also: "  Speech On Social Media For Students   "
WhatsApp was founded in 2009 by Jan Koum and Brian Acton, who were both former employees of Yahoo!. WhatsApp was originally designed as a replacement for SMS messaging, but it has since evolved into much more than that. These days, WhatsApp is used by millions of people all over the world for a variety of purposes, including staying in touch with family and friends, sharing news and updates, and even conducting business.
One of the things that makes WhatsApp so popular is that it is very user-friendly. The app has a simple interface that is easy to navigate, and it doesn't take long to figure out how to use the various features. WhatsApp is also constantly evolving, with new features being added on a regular basis.
The Importance of WhatsApp:
WhatsApp has become an essential tool for many people all over the world. For some, it is the primary way that they stay in touch with family and friends. For others, it is a way to stay up-to-date on the latest news and updates. And for businesses, it is a way to connect with customers and clients. WhatsApp is so important because it offers a fast, convenient, and reliable way to communicate with others. It is also very affordable, as there are no monthly fees or charges for using the app.
There are a few drawbacks to WhatsApp, such as the fact that it can be used for spamming and that there is the potential for cyberbullying. However, these are relatively minor compared to the many benefits that WhatsApp offers.
How to Use WhatsApp?
Using WhatsApp is very easy. Once you have downloaded and installed the app, you will need to create an account by entering your name, phone number, and email address. Once your account has been created, you can start adding contacts. You can do this by manually entering the phone numbers of the people you want to add, or by importing your contacts from your phone's address book.
Once you have added some contacts, you can start chatting with them by simply tapping on their name. You can also create group chats so that you can stay in touch with multiple people at the same time. WhatsApp also offers a variety of other features, such as the ability to send and receive photos, videos, and voice messages.
>>>>> Related Post: " Essay on Mobile Phone Revolution"

WhatsApp is a very powerful communication tool that can be used for a variety of purposes. Whether you use it to stay in touch with family and friends or to conduct business, WhatsApp is sure to make your life easier.