Study is the manner of getting education under an established system. The study is quite important for getting knowledge, broadening awareness and understanding. Without study man can never progress and prosper. The following Essay on Study talks about its concept, core meaning and importance of Study for Students. This Essay is quite helpful for students in school exams with good grades.
Essay on Study & Its Importance in Life
It is rightly said that 'knowledge is power'. A successful career and a happy life both hinge on one's ability to study and learn. Despite this, many students do not take their studies seriously enough. This essay will argue the importance of studying for students and provide tips on how to study effectively.
Studying is one of the most important things that a student can do. It helps them to acquire knowledge and develop skills which are essential for both academic success and future employment. Furthermore, studying also helps students to grow as individuals and to become more well-rounded citizens.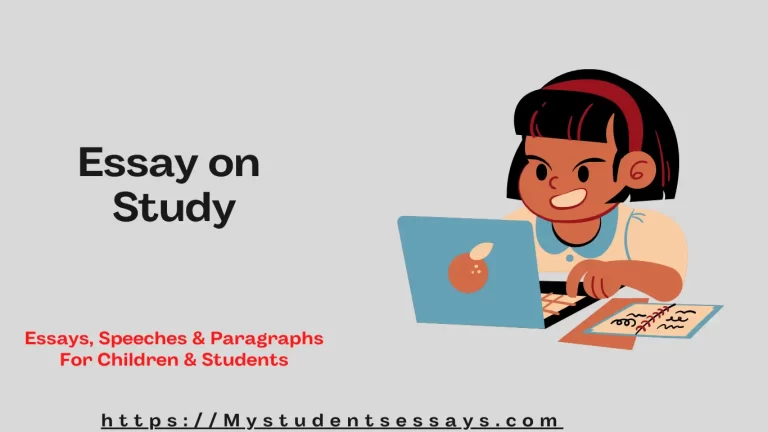 There are many reasons why studying is important for students. Firstly, it is essential for academic success. A student who does not study will not be able to do well in their exams and will ultimately not achieve the grades they are capable of. Secondly, studying helps students to develop important skills such as critical thinking, research, and time management.
>>>> Related Post: " Essay on Educational Technology" 
These skills are not only essential for academic success but are also highly valued by employers. Finally, studying also allows students to gain a deeper understanding of the world around them and to develop their own opinions on important issues.
Hurdles in the Way of Study
There are a number of hurdles that can get in the way of students' studies. The most common of these are procrastination, distractions, and a lack of motivation.
Procrastination is a major problem for many students. It is often tempting to put off studying for another day, especially when there are other things that seem more fun or interesting to do. However, this can quickly lead to a build-up of work and can make it feel even more daunting to start studying.
Distractions are another common hurdle. With the advent of technology, there are now more distractions than ever before. It can be all too easy to get sucked into browsing the internet, playing games, or watching TV when you should be studying.
A lack of motivation is also a common hurdle. This can be caused by many things such as stress, boredom, or a lack of interest in the subject. When students are not motivated to study, it can be difficult to get them to do any work at all.
In order to study effectively, there are a few things that students can do. Firstly, they should create a dedicated study space which is free from distractions. Secondly, they should make use of resources such as books, websites, and apps to help them learn. Finally, they should make a study schedule and stick to it. By following these tips, students can ensure that they are getting the most out of their studies.
>>>> Related Post: "Essay on Exams are Like Festival Enjoy them! "
Conclusion
Studying is essential for students. It helps them to achieve academic success, develop important skills, and gain a deeper understanding of the world around them. To study effectively, students should create a dedicated study space, make use of resources, and stick to a study schedule.