Police is an important state institution that is tasked with maintaining peace and stability in the society. A strong and efficient police is an important pillar of a well governed, justice oriented and progressive society. The following essay on Police highlights the importance and role of police in society along with emphasis upon why an efficient police ensures a well established society.
Essay on Police | Role & Importance of Police in Society
Police is an important pillar of our society. It is the law enforcement agency which is responsible for maintaining law and order in society. It is very important for us to understand the role of police in our society and its importance.
Police is defined as organized body of persons empowered to maintain order, enforce laws, and make arrests. The primary role of police is to protect the citizens and their property. They also play an important role in crime prevention. Police work very hard to keep our streets safe and secure.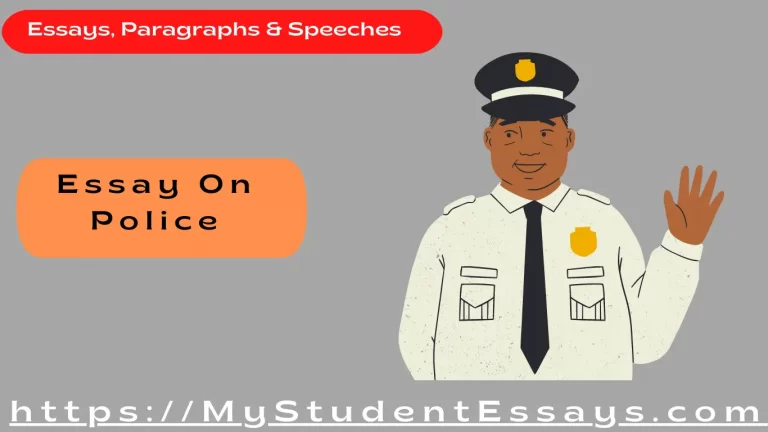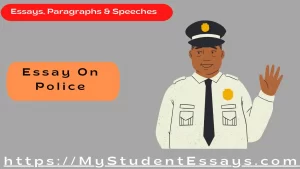 Organization of Police force:
Police is an important aspect of modern nation states. It is a highly organized and structured body which is responsible for law enforcement. The police organization varies from country to country. In some countries, the police are divided into several specialized units such as traffic Police, criminal investigation department (CID), national guard etc. while in other countries the police are a single centralized organization.
>>>> Read Also:  " Essay on Violence against Women "
Police hierarchy:
The police are headed by a Police Commissioner or Chief of Police. He is the highest ranking officer in the department. Under him, there is a hierarchy of officers who are responsible for different aspects of policing. The rank and file officers are responsible for patrolling the streets and enforcing the law. They work under the supervision of senior officers.
Role of Police
There are various roles played by police in our society. Some of the most important roles are as follows:
1. Maintaining Law and Order:
Police is responsible for maintaining law and order in society. It is their primary responsibility to enforce the law and maintain peace and harmony in society. They work round the clock to ensure that citizens are safe and secure.
2. Preventing Crime:
One of the most important roles played by police is preventing crime. They work actively to identify potential criminals and take measures to prevent them from committing crimes. They also conduct awareness campaigns to educate people about the importance of safety and security.
3. Investigating Crime:
Another important role played by police is investigating crime. When a crime is committed, it is the responsibility of police to investigate the matter and bring the culprits to justice. They use their skills and resources to gather evidence and track down the criminals.
4. Ensuring Road Safety:
Police also play an important role in ensuring road safety. They are responsible for enforcing traffic rules and regulations. They also conduct patrols on highways to ensure that vehicles are driven safely.
5. Providing Support to Victims:
Police also provide support to victims of crime. They help them in filing FIRs and also provide psychological counseling to them.
>>> Read Also: " Essay on My Aim in Life "
Conclusion
Thus, we can see that police play a very important role in our society. They work tirelessly to maintain law and order and prevent crime. We must always remember their contribution and support them in their efforts to keep us safe and secure.