Technology has been the defining feature of today's modern life. In our life we are completely controlled by the technology. In our office, school, work place, at home or at any place wherever go, technology is there to assist us in every of our work. Therefore, it's virtually impossible to a have life without technology today. The following Essay on Life without Technology talks about the possibility of life without technology use, the greatest importance and value of technology in our lives etc. This Essay is very helpful for children and students.
Essay on Life without Technology For Children & Students
Technology has strongly entered into every domain of our life. It has become virtually impossible to live beyond technology. Whenever we need to do anything, be it going to the market or attending a class, using technology is inevitable. Even simple things like crossing the road have become technologically complicated with the advent of cars and motor vehicles. In short, life without technology would be extremely difficult and challenging.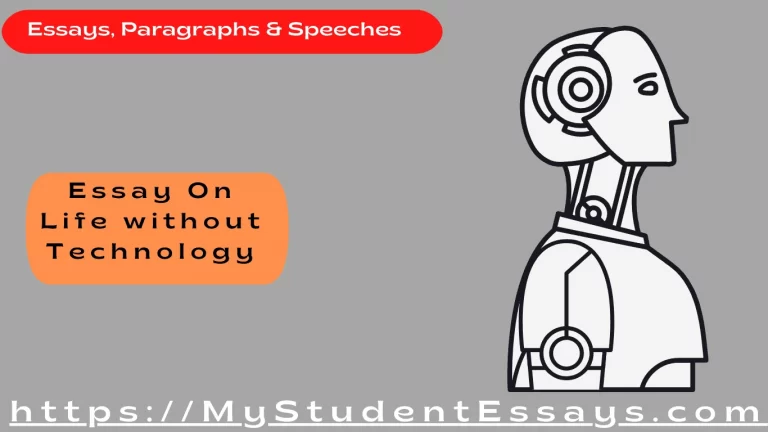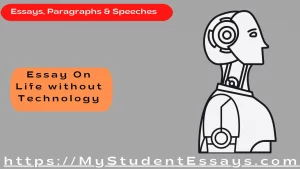 If we take a look at our daily routine, we will come to realize that most of the tasks we perform are technology-dependent. For example, we use gadgets such as phones, laptops, tablets and so on for various purposes such as communicating with others, browsing the internet, watching movies and so on.
>> Related Post:  "Essay on Life is Beautiful "
Even our health has become technology-dependent with the advent of modern medical equipment and treatments. Apart from the above, technology has also penetrated into our educational system. We use various technological tools for learning, such as online libraries, digital textbooks and so on.
On the other hand, there are also a number of disadvantages of relying too much on technology. For instance, excessive use of technology can lead to health problems such as obesity, vision problems, and so on. In addition, technology can also be addictive and lead to addiction problems. Moreover, it can also isolate people from the real world and make them more dependent on machines.
Can we Live without Technology?
Although it may seem impossible, a life without technology is possible. For instance, people living in remote areas or in underdeveloped countries are not exposed to much technology. In addition, there are also some people who have chosen to live a life without technology. However, such people usually live in isolation and do not interact with the outside world.
On the whole, it can be said that a life without technology is possible but it would be very difficult and challenging. In the present day world, we are so much dependent on technology that it has become virtually impossible to live without it. However, if we really want to lead a life without technology, we need to make a lot of adjustments to our life to live beyond the need of technology.
>>> Related Post:  "Essay on History | Concept & Importance  "
Conclusion
Life without technology would be very difficult to manage. However, we should also be aware of the disadvantages of relying too much on technology. We should strike a balance between the two in order to lead a healthy and happy life.