Happiness is all about the beautiful moments in our lives. There are countless happy moments if one looks at his life but there are only a few happiest days and moments that we can never forget. This essay on happiest day of my life talks about the most beautiful and happiest day of life. It lets you translate you emotions into the words, why we fell so happy whenever we remember those happy life moments. This essay is very helpful for children and students for their school exams and written tests etc.
Essay on Happiest day of My Life | Why I Can't Forget My Happiest day of Life
The day in your life when you achieve something bigger for the first time, is called your happiest day. I am Shalina Sharma. My happiest day in life was the day I was recommended as IPS officer.
In our life , we all have some cherished moments which we never forget. These happy memories give us strength when we are feeling low. I am very lucky that my happiest day happened when I was at the peak of my professional career.
>>>> Read Also: " Essay on My Idea of Happy Life "
It was a proud moment for me when I was recommended as an IPS officer by the Union Public Service Commission (UPSC). I had worked very hard for this day and it was a culmination of all my efforts. This achievement was not only my personal victory but also that of my family and friends. They had all supported me throughout my journey and were equally happy with this success.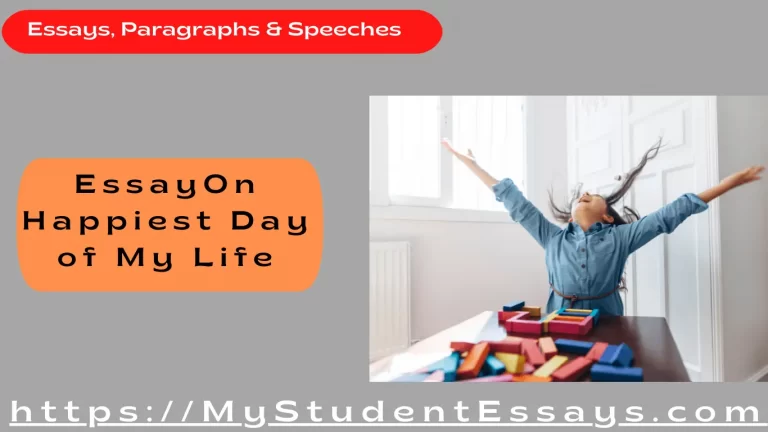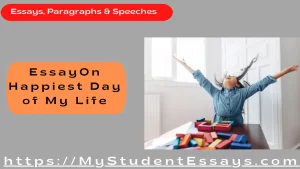 I felt on top of the world when I heard the news. It was a moment of great joy and satisfaction. I had finally achieved my dream and there was nothing that could bring me down from this high. This day would always be remembered by me and my loved ones as the happiest day of my life.
I can never forget the moment when I broke this new to my father. He was very happy and proud of me. He had always wanted his daughter to become a successful professional. I could see the joy in his eyes and it made me even more happy.
From this day on, I have been a source of motivation for my community. I want to inspire other young girls to chase their dreams and achieve great things. This is my mission in life and I will not rest until I have accomplished it.
Conclusion
This experience has taught me that if we work hard with dedication and focus, we can achieve anything we want in life. This day will always be special to me and I will cherish it forever.
>>> Related Post:  " Essay On Mass Media "
My happiest day was truly a memorable one. I am grateful to God for giving me this wonderful experience. All the hard work that I had put in finally paid off and I am proof that dreams do come true. If you believe in yourself and work hard, anything is possible. So never give up on your dreams and keep working towards them. One day, you will definitely achieve them. Thank you.
Shalina Sharma
IPS officer (retd.)