Equality is the most beautiful concept in human life that talks about human equality irrespective of caste, creed or status. The Following Essay I have written on topic Equality, meaning and concept of human equality, why equality is important in Personal and Professional Life. This Essay is very helpful for children and students in school exams.
Essay on Equality-Need, Importance of Human Equality in Personal & Professional Life
The equality in life refers to a balance in life between people in a society. It means that every person in a society is given an equal opportunity to succeed and be happy.
Equality can be defined as the state of being equal, especially in status, rights, or opportunities. In other words, it is the quality or state of being equal to something else in value or quantity.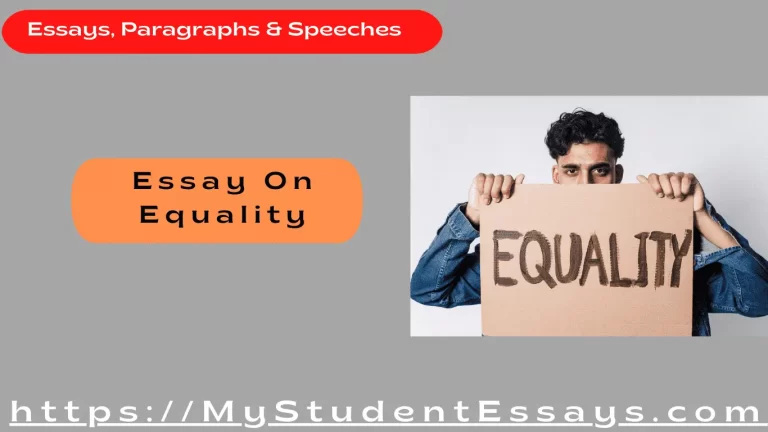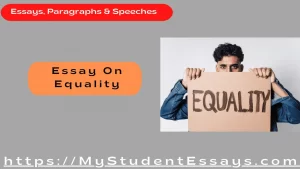 Why Equality is Important in our Personal and Professional Life?
Equality is very much important in our Life. It helps to reduce crime and keeps the society in balance. It also helps to promote fairness, justice and reduces social inequality.
>>>> Read Also: " Essay on Helping Others & Its Importance "
Equality is important because it is the foundation of any fair society. A fair society is one in which every individual has an equal opportunity to prosper and succeed.
In order to have a fair and just society, we must first have equality. Without equality, there can be no fairness or justice. This is because individuals in a society who are not given the same opportunities will always be at a disadvantage.
Furthermore, without equality, our society would be divided into two classes: the haves and the have-nots. The haves would be the wealthy and powerful class, while the have-nots would be the poor and powerless class. This is not only unfair, but it is also unstable.
Equality is also important in our professional life. It ensures that everyone has an equal opportunity to succeed in their chosen field. It also ensures that businesses are fair and just in their dealings with employees and customers.
Respect for equality and differences should be the part of socialization of new generation for variety of reasons. In schools, equality is emphasized in syllabus, which reflects the democratic values of the country. Inclusion of marginalized groups and celebration of diversity in curricula can help eradicate stereotype and discrimination.
Achieving equality is not always easy. There are many factors that can contribute to inequality, such as race, gender, and socioeconomic status. However, it is important to strive for equality in our society so that everyone has the same opportunity to succeed.
>> Related Post:  " Essay on Great Life Lessons"
Conclusion
Equality is a cornerstone of democracy. It ensures that everyone in a society is given an equal opportunity to succeed and be happy. Equality is an important ideal that we should strive for in both our personal and professional life. It ensures that everyone is given a fair chance to succeed and contributes to a stable and just society. Thank you for your time.