Teaching is the noblest profession. It has tremendous importance in our Life. The following paragraph discusses about My favorite teacher, her habits, why I like here my favorite teacher paragraph in simple and understandable English for children and students.
Paragraph on My Favorite Teacher
Teaching is a noble profession. It is said that those who teach, touch the future. I completely believe in this and so does my favourite teacher.
My favourite teacher is Mrs. Sharma. She teaches science in our school. I have never had a teacher who was as passionate about her subject as Mrs. Sharma is. She has a unique way of teaching that makes learning easier.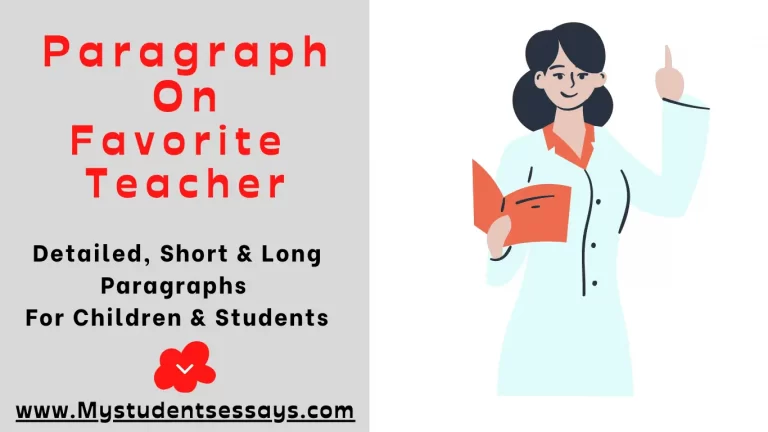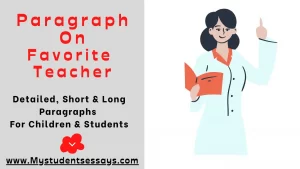 There are certain reasons why I like Mrs. Sharma, as my teacher. Firstly, she has a vast knowledge of the subject she is teaching. Secondly, she is extremely patient with her students. Thirdly, she is always willing to help her students learn. Lastly, she makes learning fun.
>>>> Read Also:  "  Essay on If I were a Teacher For Students "
I have never seen Mrs. Sharma lose her temper in class. She always remains calm and composed, even if there is a lot of noise and chaos going on around her. She is always willing to help her students, even if it means staying back after school hours. I have never seen Mrs. Sharma get angry with her students. She is always patient and understanding.
Her Knowledge Level:
Mrs. Sharma is a well qualified teacher in science. She has done M.SC in Biotechnology from Delhi University and B.ED from Kurukshetra University. She has been teaching for the past 10 years. Her vast experience and knowledge in the subject makes her a great teacher. Mrs. Sharma's teaching methods are very interesting. She uses a lot of multimedia aids to teach her students. This makes learning easier and more fun.
Her Best Habits:
The best thing about Mrs. Sharma is that she loves teaching. She is not just doing this job to earn a living. She truly enjoys teaching and interacting with her students. She always has a positive attitude and tries to make class interesting for her students.
Her Vast Experience:
She has tremendous teaching experience. I am told there have been many bright students who studied under her. And, I would say that Mrs. Sharma is an excellent teacher and a great human being. She has all the qualities that a good teacher should have. She is knowledgeable, patient, compassionate and caring. She has made me love the subject of science and I am sure she will continue to inspire many more students in the future.
>>>> Read Also: " Short Essay I Love Maths"
Conclusion:
I am very lucky to have Mrs. Sharma as my teacher. She has inspired me to love learning and has instilled in me a passion for science. I am grateful to her for all that she has done for me. I hope to be able to make a difference in the lives of my students, just like she did in mine.