Swachh bharat abhiyan is the greatest cleanliness campaign in India. It focuses upon achieving the desired goals of clean India with the national support of all across India.
Following short & long Essay discusses Swachh bharat abhiyan, origin, meaning, purpose, impacts and success or failure. This essays explains facts in simple, understandable words in 100,150,200,300 & 500+ words Long essay for children & students.
Essay on Swachh Bharat Abhiyan | Meaning & Objectives [50,100,200,300,500+ words Essays ]
SwachBharat Abhiyan is a cleanliness drive launched by our Prime Minister, Narendra Modi on the birth anniversary of Mahatma Gandhi to honor bapu's vision of a clean country.
It was launched on 2nd October 2014 and honorable Prime Minister was the first person to initiate this step by sweeping the ground in Delhi.
Swachh Bharat Abhiyan Essay
A mountain of trash on lavish roads not only creates a bad image of our society but also pollutes the air. This is also the cause of decreased tourism in our country. There are no proper sanitation facilities in rural areas. People do not have other option but to go in open fields to excrete.
This leads to various health problems for the citizens. Keeping these things in mind, Prime Minister decided to launch this campaign in order to make India a clean country.
>> Related Post:  " Essay on Helen Keller "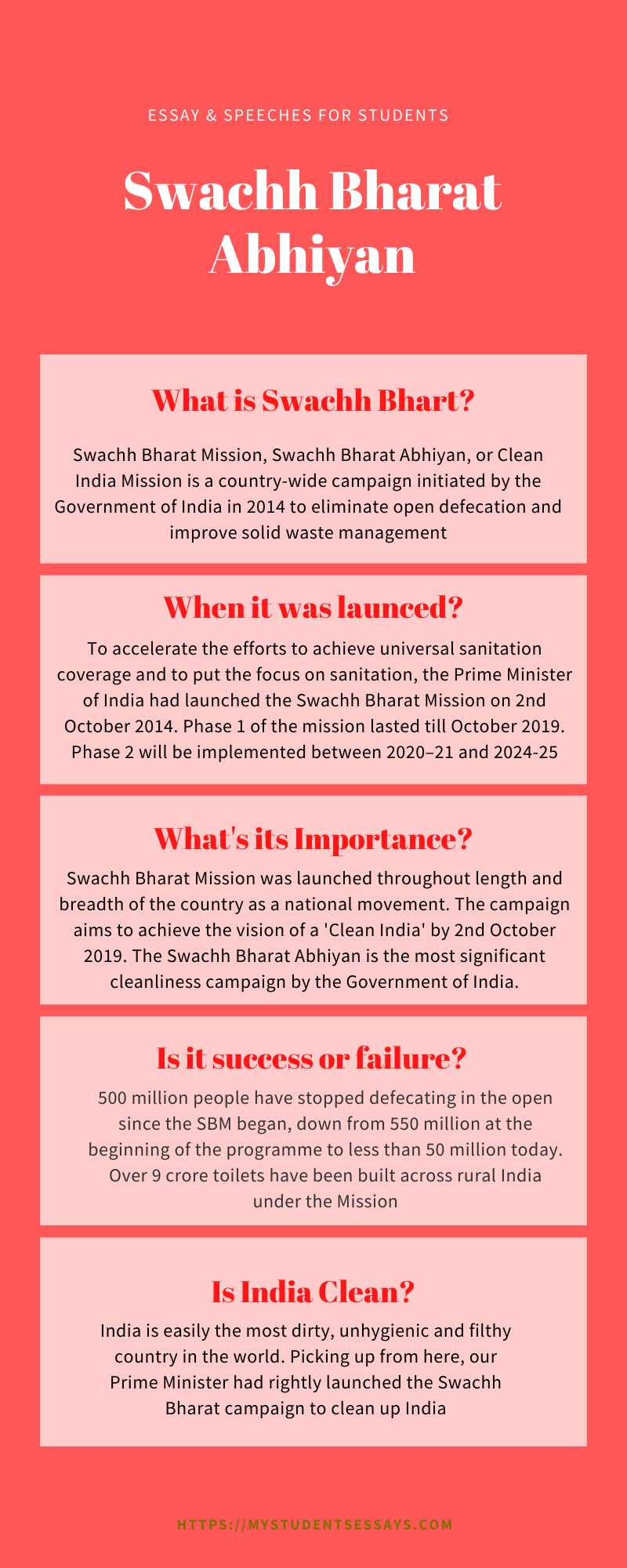 Prime Minister, Modi started this campaign as a tribute to Mahatma Gandhi who wanted India to become a neat and clean country. He requested all the people to take part in this campaign.
He also appreciated those people who took a step to construct a toilet by own by giving them Rs 12000.
This campaign was divided into two parts; Swachh Bharat Abhiyan Mission (Urban) and Swachh Bharat Abhiyan Mission (Rural). These missions were made to handle the issues of rural and urban areas separately.
Aims & Objectives of Swachh Bharat Abhiyan
The primary objectives of this campaign were to prevent the practice of open defecation, achieve better levels of cleanliness and fix the sanitation issue by enhancement of waste management techniques. Now, the aims of this campaign are not just limited to make India clean, it also aims to promote awareness about cleanliness and hygiene in people.
>>> Related Topic: Essay on My Village Life For Children & Students
The main concept of this campaign is to provide sanitation facilities like hand pumps, toilets, proper drainage system, recycling of municipal waste and safe water supply to every citizen.
Government have built so many toilets in every village. They are appealing people to use those toilets instead of going out in open areas to defecate.
Results of Campaign
This campaign had a huge influence and received huge support from people. After the launch of this campaign, every citizen took brooms to sweep the streets and clean the trash in order to maintain a healthy environment.
Now, a huge amount of people from different areas have come forward to join this mission. There are government officials, sports persons, celebrities and motivational speakers who are lined up for this noble deed.
Now, people are getting responsible and sensible to keep cleanliness in their surroundings.Moreover, the economic condition of our country is also improving because of the tourists that are coming from all over the world.
Because of this campaign, within a time period of just four years, the number of people who used to defecate in open areas have dropped from 550 million to just 140 million.
By the end of 2018, 3.2 lakh villages in India were declared free from open defecation by people. According to reports, 1028.7 toilets have been already built which is a huge success of this campaign.
Conclusion
Swach Bharat Abhiyan is a step taken by government in order to improve the condition of our country and make this entire country clean.
However, only the efforts of government employees are not enough to promote cleanliness, all the citizens must join hands with government too in order to make this campaign successful.
>>> Related Topic: Essay on My Favorite Place For Students
If every citizen joins hands with government and participate in this campaign then that day is not too far when the condition of our country will improve and flourish.