Writing an essay on Subhash Chandra Bose for any class e.g for children, Primary, high school or college level students you needed to take care of certain points.
The best ever essay written on topic Subhash Chandra Bose in English must include; his role as freedom fighter, facts, azad hind fauj, his family, 10 lines, few more lines in English, Hindi, Bangali, Kannda, or Urdu etc. Keeping that in eye, we have written Short & Long Essay on Subhash Chandra Bose for all including Ukg kids, class 1,2,3,4,5,6,7,8,9,10th level students.
And more, we will be adding Subhash Chandra Bose quotes, facts, drawing, netaji jayanti, 3 minutes speech & more essays in 100,150,200,500 words for children & students
Essay On Subhash Chandra Bose | Life, Facts, Role & Struggles



India's most iconic freedom fighter Subhash Chandra Bose was also famous by the name of 'Netaji'. He was the President of Indian National Congress and also the founder of Indian National Army.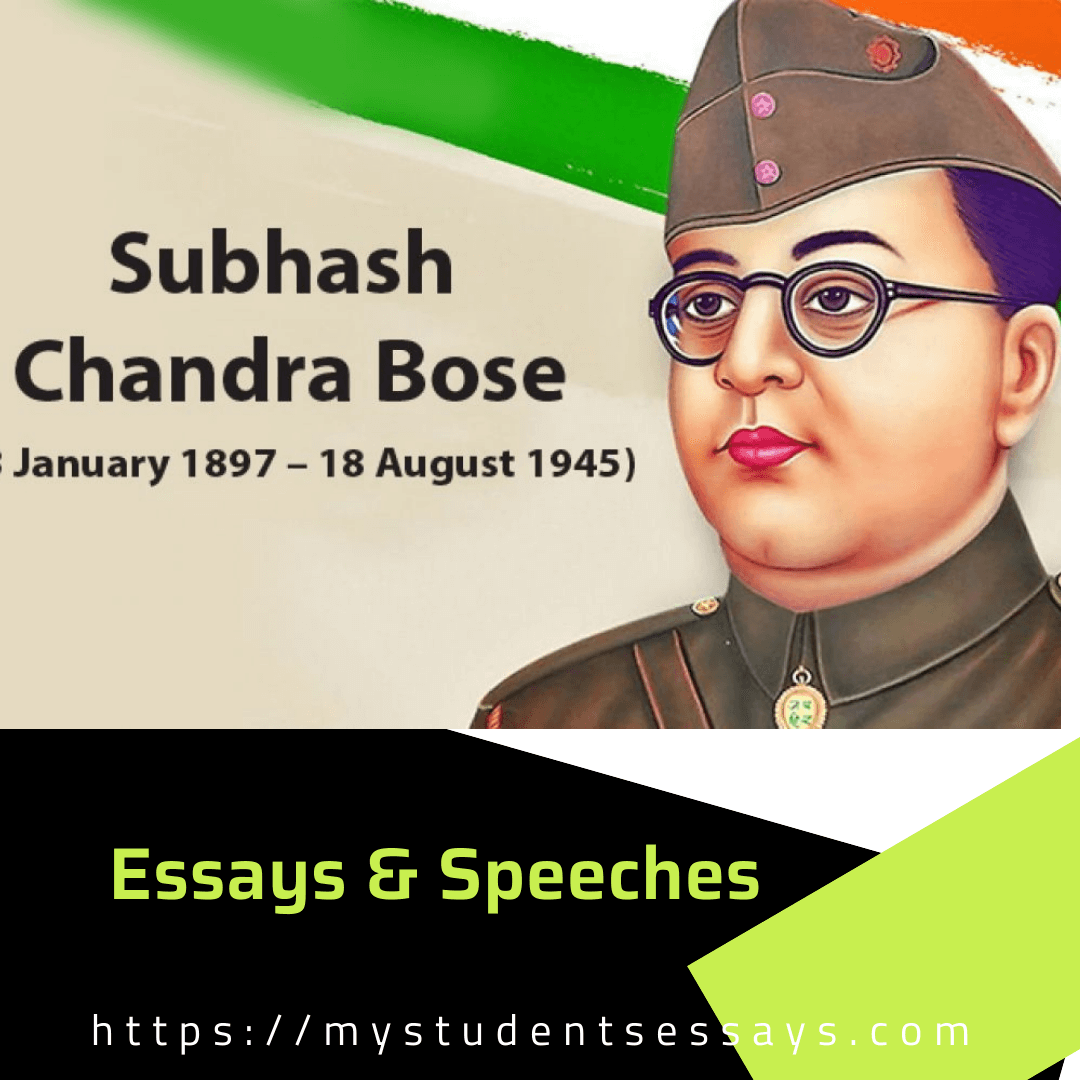 He is still described as a one-man army because of his militant approach in freedom movement against British rule.
Early Life & Education
Subhash Chandra Bose was born on 23rd January, 1897 in Cuttack, Bengal Province. He was the 9th son of PrabhavatiDutt Bose and Janakinath Bose.His father was a well-known lawyer and his mother was a very religious woman.
He was an intelligent student from the beginning. He studied in Ravenshaw Collegiate school and stood 2nd in matriculation examination. After school, he went to join Presidency College in Calcutta. Later, he went to England to study at University of Cambridge.
Freedom Struggles
After education, Subhash Chandra Bose did not want to work for Britishers so he decided to quit his job and join Indian National Congress.He also decided to join the freedom struggle.
Even though the credit for India's Independence goes to Gandhi Ji and Jawaharlal Nehru but the struggles of Subhash Chandra Bose in this movement cannot be forgotten.
To serve his country, he became the President of Indian National Congress in 1938.His famous slogan 'give me blood, I will give you freedom' had a huge impact on the citizens.
Unlike Gandhi, he was not in favor of peaceful movements of Indian National Congress. He went to jail many times because of his violent movements against British. He believed that the nation cannot get freedom from British rule through non-violence and they should fight for their rights.
He appealed to whole nation over the radio to fight once and for all to fight and get freedom from British rule. The Britishers were so afraid of his revolutionary ideas that they put Netaji under house arrest. However, he secretly left the country in disguise and went to Europe to seek help from other countries to fight against Britishers.
He risked his name, career, reputation and life just for one cause and that was to free his country from slavery, even if he had to befriend the evil for that.Later, he gained support of Japanese and there, he formed Indian National Army in 1942.
This army fought bravely against British rule. This army attacked the north-eastern parts of India and was successful in acquiring few portions of that part. Unfortunately, due to surrender of Japanese, he was forced to withdraw and cancel further progression.
During his freedom struggle, he also started a newspaper called 'Swaraj'.He also wrote a book "The great Indian struggle" in which he narrated the history of Indian Independence movement and the problems he faced during his mission. He left no stone unturned to make this nation free from the chains of slavery.
His death
He died on 18 August 1945 in a plane crash that was departed from Manchuria to Bangkok. Even today, there is no confirmation that whether he really passed away or it was a planned murder.With his death, all the hopes of Indian National Army to fight against British rule also came to an end.
Conclusion
Netaji was a great visionary leader who devoted his life for motherland. His patriotism for India is an example for us. He left all his comfort and luxury behind just to make India an independent nation.
He is an unforgettable national hero who is always looked upon as an idol by many youngsters. We are very proud of him because he is the one who lead this nation to greater heights.