Pollution is the presence of dirty, harmful substances in our environment. There are various types of Pollution including; air pollution, land pollution, noise pollution, water pollution etc.
We have written here detailed Essays on Pollution, its types, causes, impacts & solutions KG, primary, high school & college level students. Enjoy reading these short & Long essays, speech, short essays, paragraph and short notes on Pollution.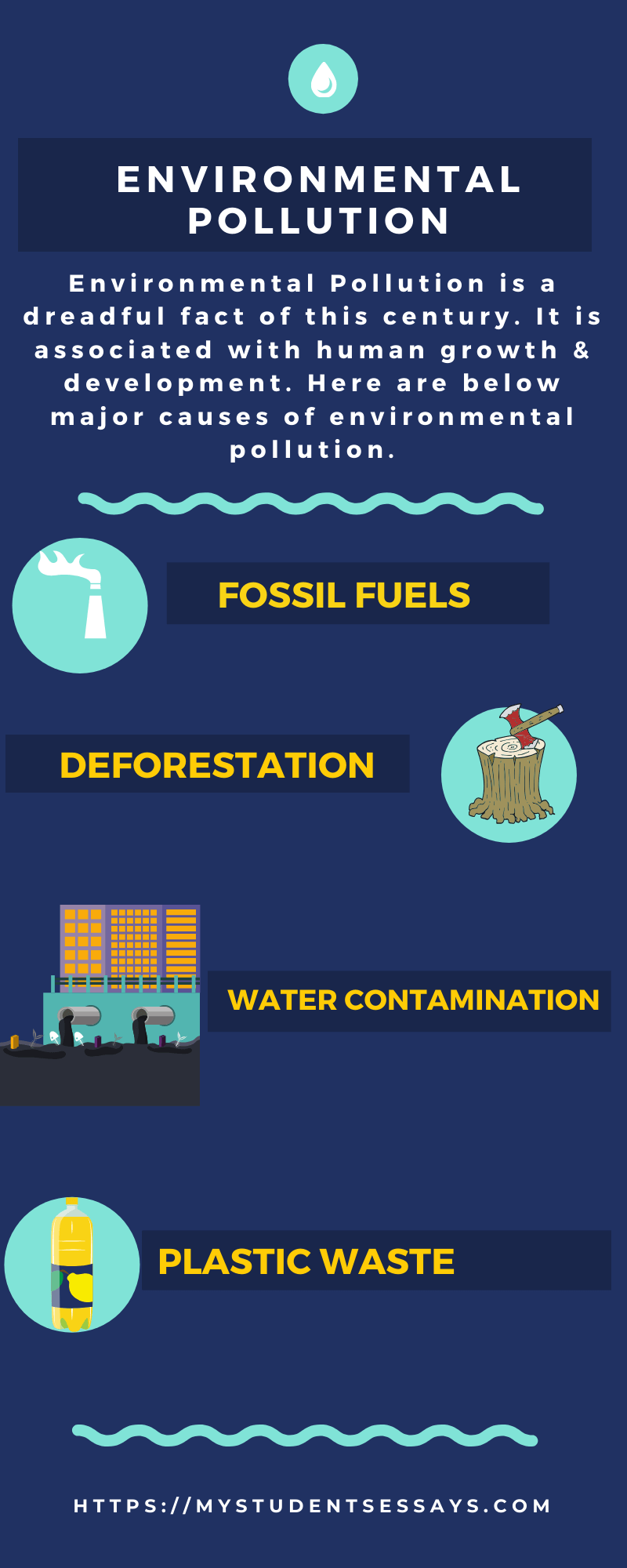 Essay No: 01
Essay on Pollution: Types, Causes, Impacts and Solutions with Quotes & Examples
Introduction
Pollution is the presence of harmful and poisonous substances in our atmosphere that affect living organisms. Many things that are useful to people produce pollution. Cars spew pollutants from their exhaust pipes. Burning coal to create electricity pollutes the air. Industries and homes generate garbage and sewage that can pollute the land and water.
Pesticides, chemical poisons used to kill weeds and insects, seep into waterways and harm wildlife.All living things, from one-celled microbes to blue whales, depend on Earth's supply of air and water.  The pollution of all these resources threatens the life in all forms over this planet earth.
Pollution is a global problem. Although urban areas are usually more polluted than the countryside, pollution can spread to remote places where no people live. For example, pesticides and other chemicals have been found in the Antarctic ice sheet.
Types of pollution; Causes and Effects
The three major types of pollution are air pollution, water pollution, and land pollution.
Air Pollution
Sometimes, air pollution is visible. A person can see dark smoke pour from the exhaust pipes of large trucks or factories, for example. More often, however, air pollution is invisible. Polluted air can be dangerous, even if the pollutants are invisible.
It can make people's eyes burn and make them have difficulty breathing. It can also increase the risk of lung cancer.Natural disasters also cause air pollution like eruption of volcanoes and its ash.
Most air pollution is not natural, however. It comes from burning fossil fuels, coal, oil, and natural gas. The burning of gasoline to power the cars and trucks, produces the carbon mono oxide. The gas is harmful in high concentrations, or amounts. City traffic produces highly concentrated carbon monoxide.
Cars and factories produce other common pollutants, including nitrogen oxide, sulfur dioxide, and hydrocarbons. These chemicals react with sunlight to produce smog, a thick fog or haze of air pollution. Smog can be brown or grayish blue, depending on which pollutants are in it.
When air pollutants such as nitrogen oxide and sulfur dioxide mix with moisture, they change into acids. They then fall back to earth as acid rain. Wind often carries acid rain far from the pollution source. Pollutants produced by factories and power plants in Spain can fall as acid rain in Norway.
>>>>>>>>>>>  Read: Air Pollution; Essays & Speeches for Students <<<<<<<<<<
Acid rain can kill all the trees in a forest. It can also devastate lakes, streams, and other waterways. When lakes become acidic, fish can't survive. In Sweden, acid rain created thousands of "dead lakes," where fish no longer live.
Human activities such as burning fossil fuels and destroying forests have increased the amount of greenhouse gases in the atmosphere.
This has increased the greenhouse effect, and average temperatures across the globe are rising. This increase in worldwide average temperatures, caused in part by human activity, is called global warming.
Water Pollution
Some polluted water looks muddy, smells bad, and has garbage floating in it. Some polluted water looks clean, but is filled with harmful chemicals you can't see or smell. Polluted water is unsafe for drinking and swimming. Some people who drink polluted water are exposed to hazardous chemicals that may make them sick years later.
There are some natural sources of water pollution. Oil and natural gas, for example, can leak into oceans and lakes from natural underground sources. These sites are called petroleum seeps.
Human activity also contributes to water pollution. Chemicals and oils from factories are sometimes dumped or seep into waterways. These chemicals are called runoff. Chemicals in runoff can create a toxic environment for aquatic life.
Mining and drilling can also contribute to water pollution. Acid mine drainage (AMD) is a major contributor to pollution of rivers and streams near coal mines. Acid helps miners remove coal from the surrounding rocks. The acid is washed into streams and rivers, where it reacts with rocks and sand.
It releases chemical sulfur from the rocks and sand, creating a river rich in sulfuric acid. Sulfuric acid is toxic to plants, fish, and other aquatic organisms. Sewage that has not been properly treated is a common source of water pollution. Many cities around the world have poor sewage systems and sewage treatment plants.
This pollution makes the river dangerous to use as a source of water for drinking or hygiene. It also reduces the river's fishery, resulting in less food for the local community.
A major source of water pollution is fertilizer used in agriculture. Fertilizer is material added to soil to make plants grow larger and faster. Fertilizers usually contain large amounts of the elements nitrogen and phosphorus, which help plants grow.
>>>>>> Essays & Speeches on Water Pollution with Quotes & Examples for Students  <<<<<<<<
Land Pollution
Many of the same pollutants that foul the water also harm the land. Mining sometimes leaves the soil contaminated with dangerous chemicals. Pesticides and fertilizers from agricultural fields are blown by the wind. They can harm plants, animals, and sometimes people.
Some fruits and vegetables absorb the pesticides that help them grow. When people consume the fruits and vegetables, the pesticides enter their bodies. Some pesticides can cause cancer and other diseases. Inefficient garbage collection systems contribute to land pollution.
Often, the garbage is picked up and brought to a dump, or landfill. Garbage is buried in landfills. Sometimes, communities produce so much garbage that their landfills are filling up. They are running out of places to dump their trash.
Solutions; How to Control Pollution
Around the world, people and governments are making efforts to combat pollution. Recycling, for instance, is becoming more common. In recycling, trash is processed so its useful materials can be used again. Glass, aluminum cans, and many types of plastic can be melted and reused. Paper can be broken down and turned into new paper.
Recycling reduces the amount of garbage that ends up in landfills, incinerators, and waterways. Austria and Switzerland have the highest recycling rates. These nations recycle between 50 and 60 percent of their garbage. The United States recycles about 30 percent of its garbage.
Governments can combat pollution by passing laws that limit the amount and types of chemicals factories and agribusinesses are allowed to use. The smoke from coal-burning power plants can be filtered. People and businesses that illegally dump pollutants into the land, water, and air can be fined for millions of dollars.
Some government programs, such as the Superfund program in the United States, can force polluters to clean up the sites they polluted. Reducing pollution requires environmental, political, and economic leadership. Developed nations must work to reduce and recycle their materials.
The developing nations must work to strengthen their economies without destroying the environment. Developed and developing countries must work together toward the common goal of protecting the environment for future use.
Conclusion
Pollution can be controlled by decreasing waste, implementing recycling policies, banning dangerous agricultural chemicals and developing safe renewable energy. Every one is entitled to clean air to breathe, water to drink and public lands to enjoy likewise it is responsibility of every person to protect the environment     
Essay on Pollution Video; Causes & Impacts & Solutions

Essay No: 02
Essay on Pollution, Causes, Effects  &  Solutions for College Level Students
Our atmosphere is composed of living and non living components. All the living organisms depend on non living components of atmosphere. Our environment is our home. Air, water and land are the non-living components of our atmosphere, though they are nonliving yet all living organisms depend on these components.
Fresh air and pure water is the basic ingredient of life. Nowadays our water and air are getting polluted in excess. The pollution effects on our environment and on the lives of living organisms.
All pollution is not only caused by fossil fuels and carbon emissions, there are several other causes including chemical and oil leakage in water bodies, improper disposal of Agricultural wastes, Noise and light pollution are also the factors that have adverse effects on our environment and lives. All types of pollution is mainly caused with increasing urbanization and over population.
Air pollution is the major source of pollution in environmental. There are two types of air pollutants, primary and secondary. Primary pollutants of air are directly emitted from factories, industries, smoke of vehicles and combustion of fossil fuels while secondary pollutants are formed when primary pollutants of sir reacts in the atmosphere.
Ammonia is the primary air pollutant that comes form agricultural activities. This gas enters into air and make it poisonous.
All fatal diseases like heart attack, breathing problems, cancer, wheezing and minor diseases like coughing and irritation of eyes are caused due air pollution. Air pollution not only has affected our lives but also has caused many other problems like depletion of ozone layer and acid rains.
Water pollution is caused by inclusion of sewage and fertilizers in water bodies which not only make water undrinkable but also deplete oxygen level in water that cause death of many aquatic organisms.
The soil waste of most of the countries is dumped into oceans and seas which affects marine life and also causes health hazards to humans. The biggest adverse consequence of water pollution is the death of aquatic creature which affect entire food chain.
As we know that the destruction of land due to human activities is called land and soil pollution. The direct discharge of waste water by industrial plants into oceans and rivers and over farming and over grazing are main causes of soil pollution. Due to these activities the nutrient level of soil decreases and causes soil degradation. The deforestation also causes imbalance in the atmospheric conditions.
Apart form it social events, commercial and industrial activities and transportation cause Noise pollution. The light pollution is caused by excessive use of lights at night that directly affect our health. Noise pollution cause stress, anxiety, headache, hearing loss and sleep loss. Too much light causes eye strain and damages our eyes and decreases our quality of life. Light pollution has also affected wildlife.
The level of increasing pollution needs to be dramatically reduced because it is destroying our environment. Protecting environmental is a long and daunting task, requires continuous planning, policies and participation, a little ignorance will be catastrophic to life.
Afforestation will work a lot to reduce extreme level of pollution.We have to start working together in order to lessen the acute level of pollution which if not controlled will engulf all life forms. Saving water and planting trees should be our motto because protecting atmosphere is to protect all life forms.
If we will destroy water, we will destroy our life. It's high time to unite and search solutions to all types of pollution. It is our duty to protect the air we breathe,the water we drink and the atmosphere we live in. Our atmosphere protects us so let's we protect our atmosphere too.               
Essay No: 03
Essay on Pollution for High School Students (9th & 10th Class)

Pollution is defined as the inclusion of dangerous and harmful materials in our atmosphere. Our atmosphere is at risk due to increasing pollution. There are various types of pollution. Air, water, land and noise pollution are the serious threats to our atmosphere.Environmentalists have proved that all the constituents of pollution are interconnected to each other.
Contamination continues to circle in the environment. Air pollution increasing excessively. Carbon monoxide, carbon dioxide, ammonia, Sulphur oxides and nitrogen oxides are main air pollutants. All these pollutants are byproduct of human activities. Air pollution is very harmful for our survival. We have made our air dirty. Air pollution is called as the slow poison, it kills lungs and cause deaths.
Water pollution is also a global issue affecting the lives of humans and animals. The waste of factories, industries and residential wastes are thrown into water bodies, these pollutants deplete marine life. Apart form it excessive use of pesticides, insecticides and fertilizers in agriculture to control weeds and pests make water polluted.
Thousands of people throughout the world are suffering from respiratory problems, walker immunity, kidney and liver infections, cancer and other chronic diseases due to pollution. The soil quality and crop quality have deteriorated.
Even all natural calamities are also caused by pollution. Pollution has made us suffer from global warming. Nowadays the ratio of oxygen in air has increased while harmful gases found in abundance. At present only 3% of the world's water is considered fresh water.
Pollution though a concern for the entire world, is yet to see concrete steps towards its control. We have to pay huge price to control rampant pollution. Government must enforce stringent laws to control all types of pollution. We must give priority to energy efficient appliances.
We must use CNG instead of petrol and diesel. Stop Littering and using plastic bags.Saving water and not abusing air is the only way to control pollution. It's high time to educate people to not spread pollution. If you will create pollution today, it will kill you tomorrow.
Essay No: 04
Pollution Essay for 6th, 7th & 8th Class Students
Pollution refers to the addition of toxic and harmful substance in our environment. All fundamental things for life are provided in the environment. In broader sense pollution means the emergence of detrimental changes in the quality of life. The quality of our natural wealth air, water, land and food has decreased due to pollution.
Rapid urbanization is the major cause of pollution, urbanization has damaged our ecosystem. The gaseous release from motor vehicles and smoke of industries and factories are main causes of pollution. Our air is polluted due to presence of excessive smoke from industries , factories and household chores while our water is polluted due Littering and disposal of industrial waste into water bodies.
The major reason of increasing pollution is the lack of public participation in implementing laws to fight pollution.Over pollution is the backbone of increasing pollution. The increase in population has increased the demand of food and shelter, this high demand has caused deforestation rampant. Clearing away trees is the leading factor of pollution.
All contaminants have disturbed our lifestyle and caused a imbalance in 9ur ecosystem. All types of pollutants adversely affect our environment and the lives of living organisms. It is believed that human activities introduce many pollutants. It has affected our health.
Many dangerous diseases have made our lives at risk. Specially air pollution has caused global warming and has raised earth's temperature. On the other hand consumption of polluted water has caused serious ailments and has depleted the species of many birds and animals. Water pollution has also caused loss of aquatic life.
The most suitable solution to reduce air pollution is to plant trees in large quantity while to reduce water pollution we must avoid dumping garbage and industrial waste into water bodies.Responsibility of keeping the air, water and land clean lay on our shoulders.
We individually must take steps to curb increasing pollution. On the whole it is necessary to use environment friendly products.
Essay No: 05
The Pollution Essay; Simple, Easy & Short for 3rd, 4th & 5th Class Students
Pollution is defined as the presence of toxic and harmful materials in our environment. All living organisms need a healthy environment to live. Environment provide all basic ingredients of life like air, water, food etc. There are various causes of pollution. Most of the pollution is caused by human activities and progress that we have attained.
Deforestation,combustion of fossil fuels and industrial wastes are the major causes of pollution. Trees purify our environment and provide oxygen to breathe but we clearing away trees mercilessly in order to attain progress. The population and diversity of birds and animals has shown decline.
Oil spills causes immediate death of marine animals. Poor quality of water and air can kill many animals. Wildlife is also largely affected due to air, water and noise pollution.  Pollution is increasing to an unimaginable extent. The most effective and productive solution of pollution is eliminate the agents that cause air, water and soil pollution.
We individually must work together in order to curb the devastating changes that are being brought due to human activities. Plantation and saving water are best solutions reduce all types of pollution. We should use modern technologies available that can help reduce pollution.
Essay No: 06
Essay On Pollution for For Class 1 & 2 Students in English
Pollution is defined as the contamination of the physical environment by harmful substances. Our environment is full of many types of pollution such as Air pollution, water pollution, Noise pollution, land pollution etc. As we know that air and water are very important for life.
Animals, plants and humans need fresh air and pure water to survive. Industrialization and modernization are the major causes of air, water and land pollution. It has become a severe global issue with damaging repercussion for life on earth
Pollution has severely affected the lives of all living organisms on earth.Specially air and water pollution has given birth to many fatal diseases. Pollution has not only affected health of humans but also has adverse effects on the animals and marine life.
If we want pollution free environment we must plant new trees and save the natural components of environment. A healthy  environment is the key to survival.
Essay No: 07
10 Lines Essay  on Pollution For UKg Kids,

1. Pollution is a man made process whereby our environment is being made dirty and polluted.
2. There are many reasons of pollution including harmful gases, smoke and other chemicals that are released by human from earth.
3. There are few kinds of pollution that are; Air pollution, Land pollution, Water pollution and Noise Pollution.
4. Pollution is very harmful for human life on earth. It causes various diseases and other problems for living beings.
5. The pollution has contaminated our air, land and water. It has been the reason of many dangerous diseases of today.
6. Pollution is man made. It can be controlled and minimized only by humans.
7. Our Industries release heavy amount of toxic elements into the air and water that make it dirty.
8. The fuels like petroleum and gas that we use in our vehicles and other purposes also makes our environment dirty
9. Plants are friends of earth. The cutting down of plants has caused more pollution in our environment.
10. It is our responsibility to stop pollution to make our environment safe and secure.
Essay No: 08
More Sentences on Pollution
1. The pollution of environment is a very harmful and most dangerous issue of the world today.
2. It is because of various human activities like industrialization, urbanization and others the environment is being made dirty and polluted.
3. There are three main types of Pollution; Land Pollution, Air Pollution, Water Pollution.
4. The environment is being made dirty with the continuous release of fossil fuels, coal, gas, petroleum and other harmful substances.
5. The land pollution happens with the cutting of trees, increase in urbanization, dumping of garbage, plastic and other substances.
6. The air is being polluted because of the presence of heavy smoke, dust particles, toxic gases and other substances.
7. Our water is being polluted with the disposal of dirty water and other substances from factories, industries and houses.
8. Pollution is very harmful for us. It creates many non curable diseases and other problems for human beings.
9. Pollution has created many challenges for human life like, hot temperatures, storms, earthquakes, floods, heavy rains and droughts.
10. Pollution can be controlled with limiting release of harmful substances in earth, planting more trees and other measures.
Essay No: 09
Short Essay on Pollution
Earth is the mother of all living beings. There are millions of species that live on this earth. The earth has provided many great things to human being like fresh and clean air, beautiful green trees, plants as the source of food and other things. Mankind has been living here for centuries.
Unfortunately, this green and fresh environment of this earth is being polluted. Pollution is, therefore, refers to the process whereby the environment of this green earth is being made dirty by the release of toxic gases and other substances. Pollution is one of the biggest problem that the human being are facing today.
There are four types of pollution; land pollution, air pollution, noise pollution and water pollution. With the increase of population and need of more land for living and growing food, mankind cut down the trees. The urbanization has created the problem of garbage and sanitation.
The garbage include plastic and other substances that are very harmful. The garbage in very large quantities, is dumped into the earth. It contaminates the ground water and creates a lot of problems for us.
The trees are like the lungs of environment. They create the fresh air for human being. With the increase of cutting down of trees, our air is being made dirty. The air that we breath today, in most of the cities, is heavily contaminated with very harmful substances. It creates many deadly diseases for human being.
The industries release heavy amount of chlorofluorocarbons and other harmful gases into the environment. We are heavily dependent on the burning of fossil fuels like coal, gas, and petroleum. These toxic gases regularly contaminate the environment. Unfortunately, we are not doing enough to save ourselves from it.
Pollution is man made. We are largely responsible for it. It is because of it that we are facing the issues like global warming and climate change, droughts, famines, floods, heavy storms etc. Mankind has played with the nature. The ecosystem of our nature is badly disturbed. And, as the fact, we are facing the issues related to it.
Pollution is the real problem. It is a collective issue that we all need to solve immediately. We need to raise awareness regarding it. We need to plant more trees, minimize the usage of fossil fuels, use alternative energy and do further steps. Only then, we can ensure the safety and security of our future generations over here on this planet earth.
Frequently Asked Questions
NOTE:       The above given selected essays have been written keeping in mind the needs of students. These pollution essays are long and short, simple easy to understand, available in pdf download having words limit including 50,100,150,200,250,300,400,500,800 and 1000 plus words and more.
These essays include, what is pollution, its impacts, reasons, causes, types of pollution like environmental pollution, noise pollution, beach, light & vehicle pollution, water, air & Land pollution.
The global pollution is the greatest human enemy. It is caused by many factors including urbanization, firecracker, festivals like due to Diwali, fossil fuels burning etc. These essays are in detailed outline, with heading, subheadings, quotes, points, topic wise step by step discussion on hazards and negative effects of pollution.
I hope these essays would serve the purposes of all including KG kids, class 1,2,3,4,5,6,7,8,9,10th, higher school, college level students and the students of competitive exams, CSS, PMS, PCS, UPSC, IAS etc.