My family for 3rd, 4th, & 5th Class Students
I am Nirmal. I come from a wonderful and lovely family of Hyderabad. We live in a joint family system. Therefore, my family is of medium sized family with 8 members. My grand parents also live us. My family include my grand mother and father, my parents, my two sisters and two brothers including me.
This all makes my family a happy, loving and lively family. My elder brother has studies in city college whereas, my elder sister has recently completed her college education. Therefore, she is preparing for university admission. It is her passion to be a doctor. Therefore, she is preparing for it.
My younger sister is studying under 5th class in the same school where I am studying in class 8th. We both go to school together. Coming to my parent's profession, my father is a doctor whereas, my mother is a housewife. My father is the most respected and renowned man of his career.
He is widely respected in his field. That's why he is always busy in his job. He values profession more than anything. Therefore, in order to satisfy himself he conduct free of cost treatment of patients every weekend.
My mother, apart from being a good housewife, is a good writer as well. She has keen interest in art, politics, history and international affairs. Her research papers and articles are published in the renowned newspapers and magazines. Therefore, she has a separate identity.
My family believes in core values of respect, love, justice and equality. My father inspires and encourages us to be a good man for our community. That's to say we are lucky to have best ever parents who know very well about the life. From my grand parents, my grand mother always entertains us with her sweet and creative stories.
She never let us to be bored. We enjoy a lot in her company. My grand father, on the other hand, is well respected in our community. He is the head of our tribe. He is a great social worker and runs a social welfare organization for the good of people. We have had enough to learn and get inspired from him.
Despite being very busy with their professional lives, my family gives us a good time. Every year during our vacations, we go on a country side tour. We explore a lot of new areas and meet with new people every year. This gives us a great learning opportunity as well.
We enjoy celebrating all important festivals, family functions and birthday parties. We live our life fully and with complete happiness. I am quite happy and thankful to God for giving me a happy, loving and kind family. I pray God to give a gift of lovely family to everyone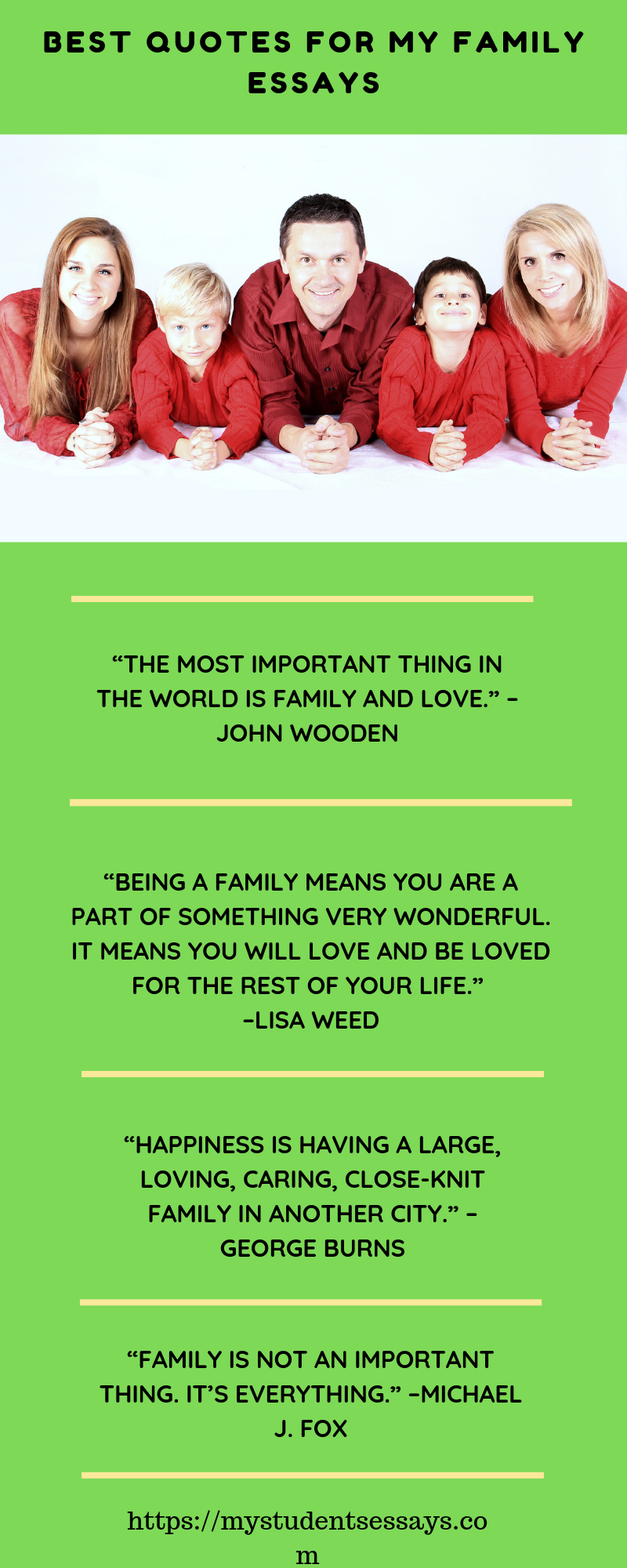 My Family Essay for Class 6th, 7th & 8th Class Students
I am Kajal. I live with a wonderful, sweet and small family. We live in a separate and small house near civil lines, Delhi. There are six members in our family. We are two sisters and one elder brother. Apart from that, other family members include my mother, my father and our sweet loving grand mother.
My father is Government officer and my mother is a lecturer in nearby college. Despite of their busy schedule and strict job my parents give full time to all of us. My mother is very responsible and loving lady. She takes care of all responsibilities. She has taught us the value of time and self discipline in life. My father is a strict and honest Govt officer.
Many people visit our house everyday to meet my mother. My mother serves all of those guests very generously. We all also love to serve our guest very much. My elder sister's name is Pooja and elder brother is Rakesh. Rakesh is very funny and he is loved by all of us. He has a very kind and creative nature. He is also a position holder boy in his class.
He is also loved by all of our relatives because he is genius, disciplined and obedient boy. Apart from studies, Rakesh has great interest in art and literature. He loves reading books on literature, history and the biographies of successful people.My elder sister has keen interests in drawing and designing.
She has won many prizes at various school competitions in art and design. Both my brother and my sister love me very much. They help me in my studies a lot. My family takes great of us. When we are bored, my grand father entertains us telling many stories. Rakesh is a great fan of adventurous and ghost stories.
He always insist my grand mother to tell him historical adventurous stories. During every vacation, my father take all family members to a trip. We all enjoy very much during that trip. We all celebrate all festivals like holi Diwali, Rakhi and our birthdays etc, with great love and enthusiasm. It gives us a lot of pleasure and happiness.
I love my family very much because all of my family love and respect each other in every step of life. My father is our hero. He inspires us and always encourages us to do something good and something great in our lives. To him, human service is the best service.
Both our mother and father has always taught us the lesson of respect, love, toleration, peace and forgiveness. My father is also a good writer. He has a written a few books as well. He has great command on history and philosophy. Therefore, he always guides and inspires us with his fine words. My mother has also a good command on literature and art. She is also a respectable lady in our family.
My family is an ideal and loving family. There are a lot of reasons to love and to wish a good family. I always pray God to give everyone a good family like my family.
Note: The above essays are intended to serve the searches related to topic my family essay, speech or paragraph for class 3,4,5,6,7,8,9,10th and other high school and college level students essay. Apart from that it is related to these topics including; speech on family, my family story, family definition essay, introduce myself and my family, happy family essay, importance of family essay, example short speech about family, describe your family example, my joint family paragraph, short essay about family tree, family stories essay,short article about family, family support system essay, what is a paragraph for kids, my father essay for class 10, topic talk about your family.