India has a long tradition of being a developing nation. It started from the British Era and it is still continuing. The Government has taken some major steps to make our nation a better place. And it's happening in front of everyone's eyes. We all must come together and work for the country rather than harming the peace efforts by such people.
Essay On India of My Dreams | How I have Seen it? | Making it Stronger
My Dream for this Great Nation is Peace & Prosperity India will be a great country when it is fulfilled with every citizen who is following the rule of law, supporting Nation along with their family and doing something which can make India a better place.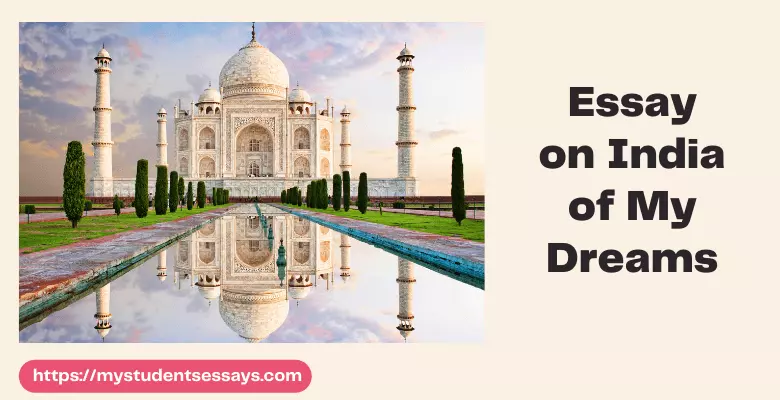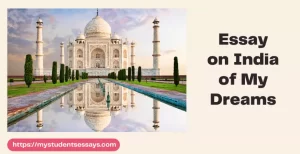 How I have Seen India?
I have seen India from so many various things but I would like to mention some of my experiences which I think need to be mentioned for this Nation.
>>>> Related Post:  Article On Clean India Green India Movement
1) The people here are warm and very supportive.  Be it any occasion , be it New Year or Holi or Diwali, every festivals India celebrates with great pomp and show which needs to be acknowledged by everyone . No one can deny the fact that India has given to this world some great Scientists, Philosopher, Artists and many more. These were people who have worked hard in their lives to make not only themselves but also the nation proud. Like it's obvious that if your country is doing well then you are happy living in it because everyone
Major Problems in the Way of my Dream India
The biggest reason for that is some people who are trying to defame India at international level. Whenever something happens they want to malign the name of our country. They only want to prove wrong which is not good for our nation. We must give credits where it's due and also take responsibility when things go wrong.
Now, the government has taken some major steps to make our nation a better place. And it's happening in front of everyone's eyes. We all must come together and work for the country rather than harming the peace efforts by such people.
Equal opportunity is another reason that hinders India from becoming a powerful country because at this point of time we are not giving enough opportunities to women and girls because of which they are not able to compete with men. Due to this reason, India is becoming an unequal country where number of people are facing problems in their life.
There are still many people who do not have access to proper education facilities. And even if they get these opportunities, the fees of the institutions make it difficult for them to get admission. Proper infrastructure is another reason for not becoming a powerful nation because we still don't have proper roads, electricity, drinking water etc.
If these facilities are provided to all people then no one will be able to stop India from being a great country in the World. Even if there is electricity shortage in few areas, they should also be given proper electricity because it's unfair to blame the government for such problems when we idly sit and do nothing about it.
It's due time to stand up and work together in order to make our country a great nation. These problems are also faced by people today still there is no unity among them which is why we still face these problems
How we can Make India a Dream Land?
If we all look in to each and everything , we all will be able to find the reasons and solutions of every problem in the World. The same way, becoming a great nation is also an achievable dream.
In order to become a Great Country, India must have:
Just & Effective Law
Peaceful Society
Equal opportunity for all
Proper infrastructure
Unbiased educational system
When these things will come true, the whole country will look in to it and everyone will be able to get a chance to live a healthy & wealthy life.
When the rule of law is implemented in India, then no one can escape from it. Then there will be equal opportunities for all rather than thinking about caste system or religion when working with everyone. Proper infrastructure, good education and justice to every citizen are must in order to make this great country a developed nation.
India being an Unequal country where a number of people are still living below poverty line. In order to be a powerful nation, we have to overcome from these problems first that is why all must join hands to bring a change in our country and help to bring a change in people's life.
Every citizen must work with their family and society apart from this Government is also doing his part by providing proper education, transport facilities, food for all, employment opportunities to every section of the society. They are doing what they can do that is why we should set up our goals and start working hard to make our country a better place. This means that you are doing something for the betterment of your society by helping others. This is what makes you happy at your core level.
>>> Related Post: Essay on India Gate For Students
Conclusion
In the end we all must come in one point and work for our country and help to bring a change in people's life. And if everyone does this then there is no need of any Government because every citizen will be doing their part which is what we call as "Self-Governance". Making India a great nation is also possible but it's not possible without changing yourself. In order to do this, you need to be a good person because when you will help others then that is the biggest service for your country.