Environment is all that we have. It is faced with environmental Pollution due various types of Pollution including land, water, air, noise pollution etc.
Read here the best collection of Slogans of Environment in this post that include, environmental slogans, tagline, catchy slogans, quotes etc. These slogans of environment are best short, catchy, easy, understandable, etc.
Environmental Slogans; Best Slogans On Save Environment with Images, Posters, Quotes For Students
Environment is our second to our mother. It hosts everything that sustains the life including us. The safety and security of life lies in the protection of environment and everything around us.
Related Post: Essays on Environmental Pollution; Causes & Impacts
It is essentially imperative for human beings to ensure the safety and health of environment around us.
Save Environment Slogans | Best Catchy Slogans
1. Stay clean, Go For Green
2. Do the Green, Get the Green.
3. Healthy Environment Brings the Healthy Mind
4. Stay wise, do the right, Don't spoil the environment with your might
5. Cleaner the environment, cooler the life, dirty the environment, death to life.
6. There is no Progress in Destroying your own habitat, mother environment.
7. The environment feeds you, don't make it filthy.


8. Save the Environment for the Ones that Follow You.
9. Safer the Environment, Sweeter the life.
10. Don't make your Environment Dirty, it comes for once.
11. The sanity lies in protecting the environment not destroying it.
13. Only the fools don't know the worth of their place, the environment.
14. If you want Wake up enjoying the wonderful fresh morning breeze, pay it by protecting your environment.
15. The environment is our shade, Don't tear it away.
16. The killer of environment is the killer of humanity.
18. People shall not die because of Poverty but because of poor environment.
19. The environment is sacred. There is no cure to it, once destroyed.
20. This is our Planet, this is environment, don't hit it hard to live.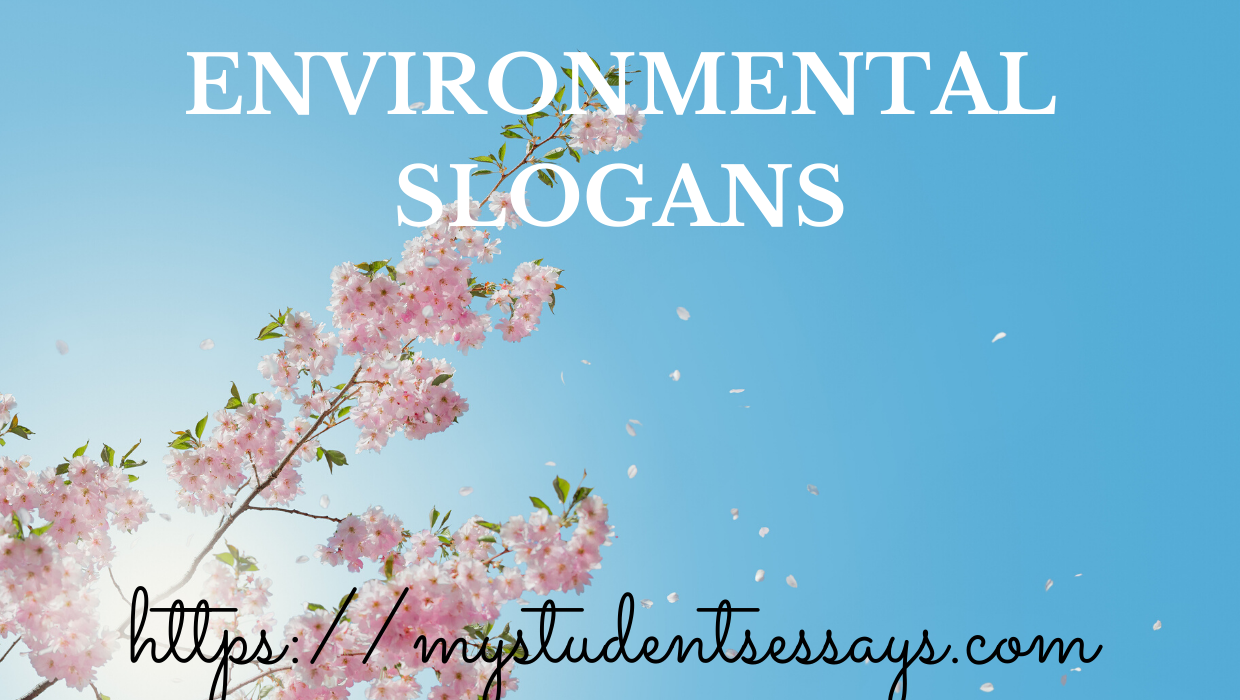 21. The Pollution is the biggest enemy of Environment and ultimately of mankind
22. Save Environment is a Song, a call never to be ignored.
23. Protect Environment before it is Gone.
24. Environmental Pollution is a disease, the humanity has to pay to heavily.
25. Don't hurt Your Home, the environment, Heal it before it is dead.
Creative Environmental Slogans For Students

26. The environment is a sacred trust, don't spoil the trust that belongs to your Kids.
27. Stay Awesome, Protect Environment, Don't Let it Go Perish.
29. I went Up into the environment! What I saw the ugly pollution has bitten it to the extent, it is now bed ridden. I have resolved to be its Pillar to Protect it from Pollution.
Related Post: Environment & its Importance
30. Love the environment and it will Love You.
31. The environment speaks. It in fact cries, when you add more and more pollution to it.
32. The environment is our teacher, our mother and our father that nourishes us with great love.
33. If you Don't Love the environment, Go get yourself healed for mind and heart.
34. No riches of World Can reverse our ills to Environment but our small steps go long way to help it get cured.
35. Pollution! Give it a Go!. Embrace Your Environment.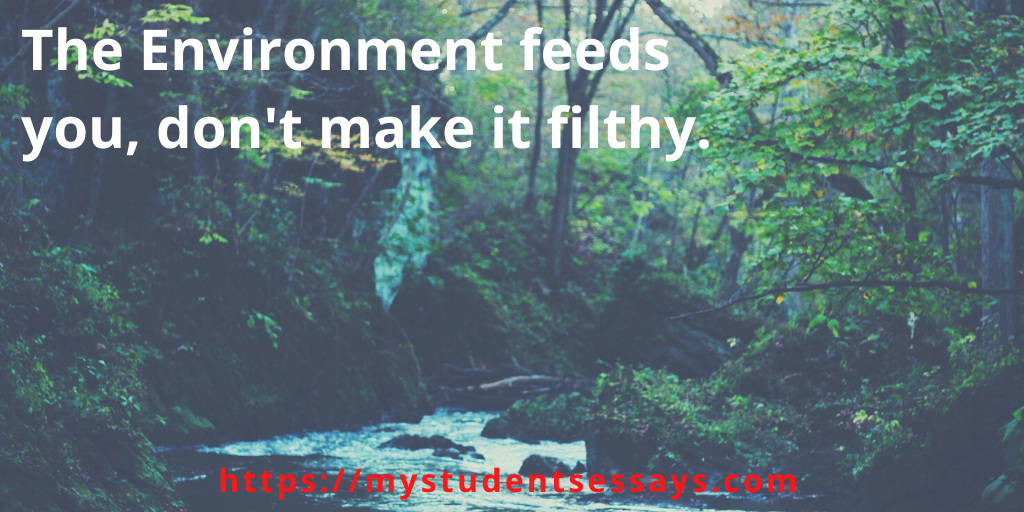 36. Do it For your Kids, at least.
37. The wise man knows the worth of his abode, the environment.
38. Don't Ever Litter! Don't ever the environment bitter.
39. Environmental Day, Every day.
40. The environment is green, don't make it unclean.
41. Say No to Environmental Pollution.
42. The environment Loves You too! Just Kick the CO2.
43. The wisdom lies in Protecting your abode the environment.
44. The Green is Life. Don't turn it aside.
45. Don't break it out! You don't have a way out.
46. You can never leave it, just Love it.
47. Don't get mean! Stay Green.
48. Repay Goodness with Goodness. Give Environment its due.
49. Put the environmental Pollution away. Go out with the Green way.
50. Pollution is Giant dragon. Don't feed it with your blood. It will eat you out.